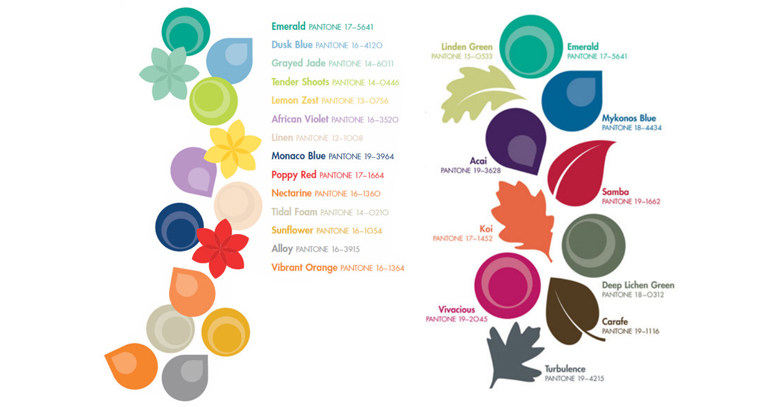 Pantone, provider of color systems and leading technology for accurate Color communication, claims its 'authority' over colors and to be fair it has all the reasons to do so. The seasoned company was the first of its kind in fashion coloring standard called the Pantone Matching System (PMS).
On its 50th anniversary – Pantone celebrated colors with a retrospect on which colors have ruled which era and which ones should we expect in the future.
In essence, Pantone has not only launched the colors of tomorrow but also acknowledged the colors of yesterday.
The psychedelic 60s
Colors have always flamboyantly expressed the attitude and emotions of culture and society. The 60's saw the European and American cultures progress. But they cannot be deemed alike, culture and social revolution rooted in Europe whereas America witnessed the eruption of youth, young cultural changes and rise of Hollywood as an eminent being.
The earthy 70's
Pantone marks Avocado, Carafe, Burnt Sienna, Harvest Gold, Rust and Corsair as the colors of 70's. The term 'earthy' may reflect to the recession and how it affected the social norms. The environmental evolution took firm grasp and trend of Disco emerged.
The Vibrant 80s
With colors, ruling this decade, like Ribbon red, Royal Blue, Lavendula and Violet among others, it is evident why it is called 'vibrant'.
MTV music made its debut along with a revolution of pop culture that took the world by surprise. Economy stabilized as people around the world started to sense fashion more aptly.
The Nuanced 90s
The era of Grunge and Graffiti – with colors like Overcast, Lead gray and Oasis representing the decade, it went down in history with the irreverence in Anime.
The Expressive 00s
The turn of the millennium gave birth to technological boom and the birth of internet in every home. Cerulean with Chili Pepper became the in-colors, along with Satellite, Lavender Aura, Mimosa and Aspen Green.
Globalization in the 2000s changed everything forever.
As we stand only three years young into the next decade, labeling the colors for our present would be an impossible and unfair task, whereas the three predominant colors of social media last year, according to pantone, were Red, Blue and Green.
However, Pantone declares Emerald as 'Color of the year' for 2013. The radiant, multifaceted and jewel toned Emerald promotes New Life, Healing and unity.