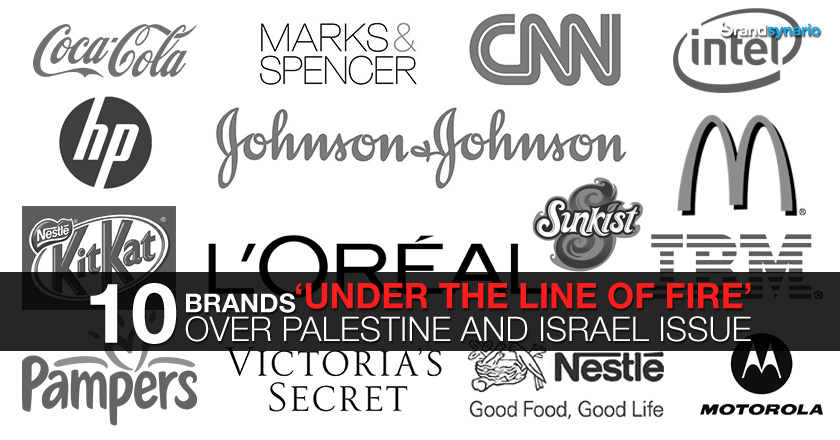 The world is silent yet well aware of the agonizing Palestine and Israel conflict.
The killing of innocent people including several children has become the daily headline on all major information sources and ironically, just like any other global agenda, the business world plays its part too.
For better or for worse, there are various international brands that are currently under hot waters for their alleged connections with Israel.
Let's have a look at few important ones:
1. Coca Cola
With its continuous and powerful support for Israel in the last 30 years, Coca Cola's ties with Israel dates back to 1966.
According to inminds Coca Cola Corporation was honored by the Government of Israel Economic Mission at the Israel Trade Award Dinner for not abiding to the Arab League boycott of Israel.
For the past two decades, Coca Cola has been sponsoring the JCC Macabi Games that aims to cultivate Jewish youth in order to "encourage their identification with the state of Israel."
2. HP
Mic.com reports Hewlett Packard owns EDS Israel which supplies the computer systems for the Israeli Ministry of Defense and also manufactures the Basil System which is used to control the movement of Palestinian workers through checkpoints in West Bank and Gaza.
Therefore, it's possible that the company might face some trouble due to  the recent bombings on Ghaza by Israel.
3. Pampers
Pampers, a product of Procter & Gamble is one of the largest buyers of an Israeli diaper provider, Avgol Nonwoven Industries which accounts for half of the company's sales according to Who Profits, a pro-boycott research group.
4. Victoria's Secret
Delta Galil, a textile factory in the West Bank industrial zone of Barkan that also owns an outlet in the settlement of Maale Adumim is one of the largest providers of textile products to Victoria's Secret.
The brand has also been criticized for establishing its HQ on an expropriated land from Palestine, reported Baceia.
5. Intel
Intel has an investment of $10 Billion in Israel with $2.7 Billion recently invested. Intel has also benefitted Israel with more than $1 billion in Israeli government grants. Intel also owns a plant in Kirya Gat. (Source: CSmonitor)
6. Motorola
According to sources, the tech giant is accused of being an active supplier of military tech equipment to Israel, which is in turn being used for the attacks on Ghaza (Palestine).
The supplies from Motorola include fuses for aircraft bombs and guided missiles, military encrypted comms systems with transportable units which are deployed along with the army in the battlefield, advanced radar surveillance cameras, metal detection gates and a complete cellular network tailored for settlements. 
7. Nestle
Nestle, one of the world's largest food companies also owns 53.8% shares of a leading Israeli Food Manufacturer Osem. The investment of the food giant in Israel is almost $850 million. (Source: VPM)
Nestle has also received a Jubilee Award by Israeli Prime Minister Netanyahu back in 1998.
8. Johnson & Johnson
The leading baby products manufacturer is known for its expensive purchase of $400 million Israeli company Biosense. With such a major investment the company also serves as one of the backbone brands of Israel, reports inmind.
Also Johnson & Johnson has won the Jubilee award from Israeli Prime Minister Netanyahu, an award that is only awarded to those few brands that have benefited Israel over the period of time from their trade relations and investments over the soil of Israel.
9. IBM
IBM is one of the companies that has most heavily invested in Israel with Lawrence Ricciardi, who proudly boasts that his company employs 1,700 Israeli employees. In an interview to the Jerusalem Post, he said,
"This wedge of land and the huge ideals it represents are very important to IBM."
According to CJPMO, IBM has also been acknowledged by the Israel-America Chamber of Commerce for Ambassador Award for its contributions towards the advancements of Israel's tech industry.
10. Marks & Spencer
M&S has been known for its support of Zionism. The brand's support for Zionism can clearly be seen from the words of M&S long time chairman, Lord Marcus Siedd, from a book that he wrote,
"One of the fundamental objectives of M&S is to aid the economic development of Israel"
(Management: The Marks & Spencer Way, Weidenfield & Nicolson, 1990)
With an investment of $233 million, M&S is also one of the key brands supporting Israel.
Also according to JTA,
"The Israeli ambassador to England recently honored Marks & Spencer for the company's continued support of Israel."