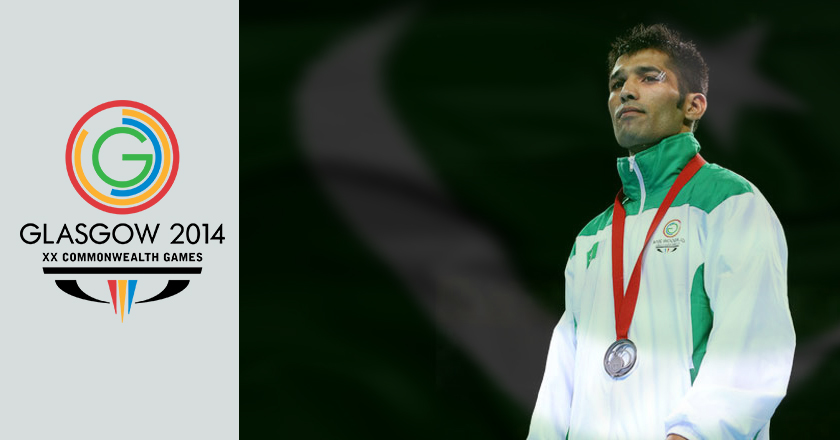 By Naqi Zafar
Pakistan, a country which is often criticized as one of the the most dangerous and corrupted countries of the world is also abundantly blessed with hardworking gems like M. Waseem, an ex-rickshaw driver who made it to the semi-finals of Commonwealth Games 2014, currently on-ging in Glasgow.
Muhammad Waseem, currently 26 made his way to the semi-finals of Commonwealth Games 2014 under the boxing category of Men's Fly (52Kg).
Waseem who belongs to Quetta was also named as the captain of Pakistani boxing team for this year's Commonwealth Games.
The young champ honored Pakistan with his tremendous and consecutive 4 wins defeating each of his 4 international competitors including Jaya Raman from Malaysia, Moroke Mokhoto from Lesotho, Abdul Omar from Ghana and finally defeating the semi-finalist Andrew Moloney from Australia.
This is not the first time that he has made Pakistan proud; the young boxer raised the green flag high by showcasing his talent and winning in 36 different countries including a bronze medal at the Commonwealth Games 2010 held in Delhi, India.
Imagine a champ of this caliber driving an auto rickshaw to support his living.
Yes, Waseem's passion for boxing has brought him success and fame, even earning him the title of "Pakistan's Hero" but then again, even a hero has to earn a living.
Luck didn't seem much to be on Waseem's side at the finals where he had to face a biased decision resulting in his fall at the boxing arena.
Though the champ did lose and was only able to bring a silver medal, yet his fans in Pakistan showered him with love through social media after he posted an apology to all his fans for facing a sorrowful defeat at the finals.
Kudos to Waseem and other unsung heroes who made the nation proud without eyeing for any publicity in return.