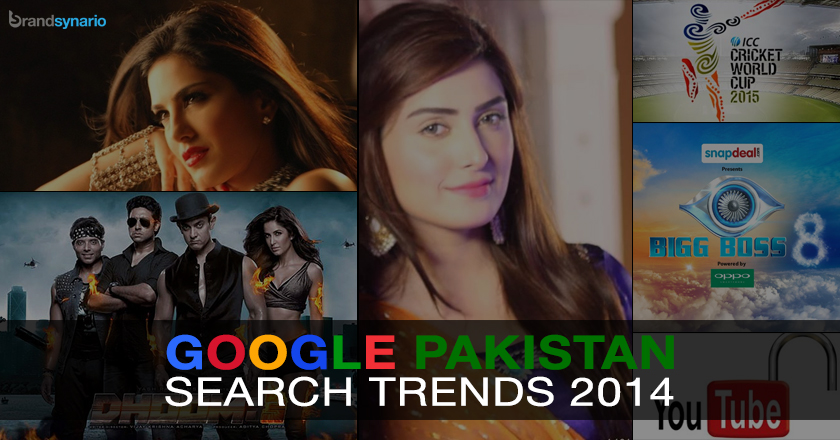 With the year 2014 coming to a close, Google has evealed the most trending searches on Google Pakistan.
Pakistan's leading TV channel for the year ARY topped the chart with most searches followed by PTV Sports and Express News. Indian content once again ranked among the top ten searches with reality show Bigg Boss and Baby Doll Song. 
Other notable searched people include Indian actress Sana Khan (Jai Ho!), Argentine footballer Lionel Messi, Indian model and actress Gauhar Khan (Bigg Boss 7 winner), and Pakistani actor and model Fahad Mustafa (host of Jeeto Pakistan).
There were many searches for one of sport's biggest events, the FIFA World Cup 2014, held in Brazil. European football giant, Germany, was crowned the World Champion.
Robin Williams, the man behind Aladin's Genie's voice left us all on August 11th, 2014, amid reports of chronic depression and dementia. His death became the most searched event for the year 2014 globally as well as locally. 
Following Robin Williams was  the one half of Pakistan's most loved couple, and arguably one of Pakistan's most beautiful people, Farah from 'Pyarey Afzal', Ayeza Khan who married fellow actor, Danish Taimoor, in a lavish wedding ceremony, and became one of Pakistan's most notable brides, thanks in large to social media.
Son of Indian film actor, Jackie Shroff, made his film debut with the movie 'Heropanti', opposite Sunil Shetty's daughter, Kriti Sanon. His young looks and incredible physique immediately made him one of the most searched people in Pakistan.
One of Pakistan Cricket team's most talented players, Umar Akmal has had an inconsistent and somewhat oscillating year as a representative of our Green men. Yet he still remains one of Pakistan's most searched sportsmen, and the most searched in 2014.
Senior journalist and media personality, Geo TV's Hamid Mir was shot at by unknown gunmen on his visit to Karachi in April 2014. He has since fully recovered and is back hosting his famous TV show, Capital Talk.