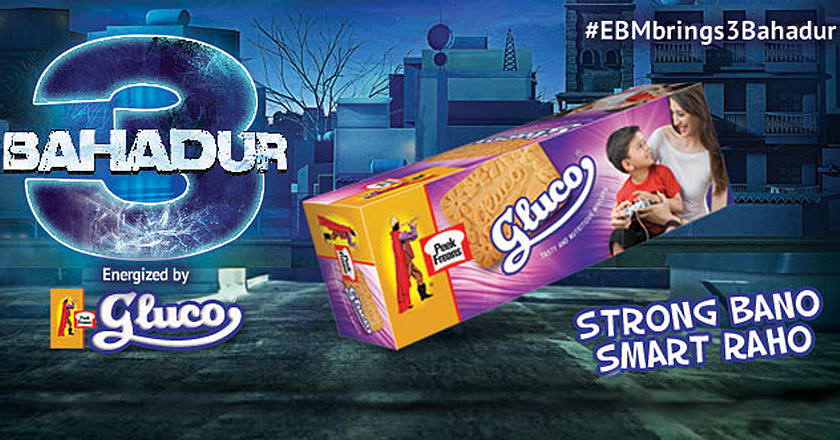 Pakistan's first ever animated movie '3-Bahadur' is being sponsored by English Biscuit Manufacturers Limited (EBM).
EBM is Pakistan's leading biscuit manufacturer with biscuits like Peak Freans Sooper, Gluco, Rio, Peanut Pick and Party being manufactured under its umbrella.
3-Bahadur which is a story of three young superheroes will be Pakistan's first feature length animated movie, which will showcase these three young superheroes as a voice against injustice prevailing in our society.
A project of Sharmeen Obaid Chinoy, the Oscar winning film-maker of Pakistan, the film is being produced by Waadi Animations and being energized by Peek Freans Gluco, the film is all set to be released in 2015 summer.
The concept of this animated film is much similar to EBM's believes i.e. of energizing children to play an important and productive role towards their society, which in turn will help them to achieve their dreams.
A trailer of the movie can be seen here,
Also, the brand and the movie both combine on the central idea of edutainment, where education and entertainment go hand in hand for the mental and physical growth of children.
In order to promote '3-Bahadur' EBM will be introducing exciting activities for children which will be centered around the movie, an example of which is the exciting new packaging look for Gluco which is being designed as according to the movie's theme.
Speaking upon the occasion, the head of Marketing at EBM said,
"We are proud to be associated with this project. The movie brings out a powerful message for children, that, each one of them has unique abilities and strengths through which they can make positive contribution to the society and that EBM's brands communicate as well."
Sharmeen Obaid Chinoy, CEO Waadi Animations also commented,
"Almost 3 years ago, I had an intense desire to create an animated feature in Pakistan which would appeal to both children and adults alike. I have to admit, venturing into the realm of animation was unchartered territory for my team and I, but everyone quickly warmed up to the idea and we began learning the ropes and assembling a team of some of the best animators in the country to work with us. We are proud to announce and share the fruit of our hard work and efforts; Pakistan's first animated feature film!"
EBM has a history of sponsoring movies that fall in place with the company's beliefs; a much prominent association of the brand was also seen with the movie RIO in the past.