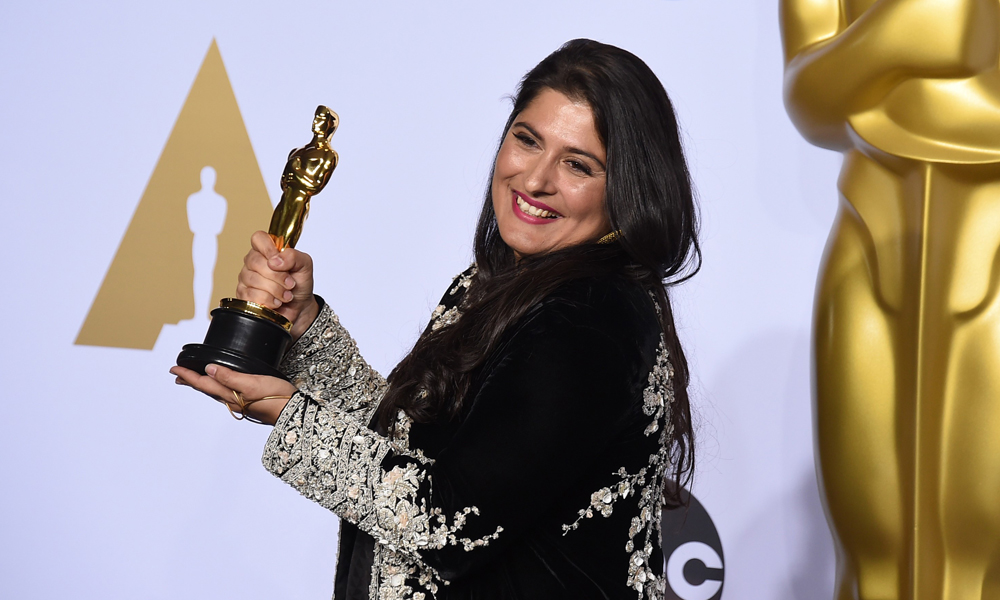 Sharmeen Obaid Chinoy hosted a press conference in Pearl Continental on Saturday, March 5th to talk about her second Oscar win in four years taking the time to respond to allegations made against her on social media.
Sharmeen opened the press conference by thanking her supporters who stayed up late to watch the Oscars and for the numerous emails congratulating her and outpouring of love and affection from Pakistan. She also thanked everyday Pakistani heroes who are working on serious social issues as well as the media for taking this issue on to prime time and talking about it. This has started conversation on important social matters.
She thanked the Prime Minister Nawaz Sharif for hosting the first screening of the film at the PM house and for mentioning the fact that there is no place for honour killings in Islam.
She mentioned that she had received a very positive response from the international community for the documentary however she did express her surprise at the mixed response from Pakistan for her documentary A Girl in the River: The Price of Forgiveness.
She talked about how Pakistan's biggest strength is it's women and mentioned many achievements and honour they have brought to the country.
Discussing the subject of her documentary Sharmeen explained she chose honor killings as her subject because of the overwhelming statistics that presented themselves in her research which showed that more than 1000 women are killed in cases of honor killing across Pakistan each year.
"Those are just the documented killings, most of the murders are not even recorded" she stated.
"In a progressive society discuss issues and make a change for the better ' Saba's story is a source of change @SOCFilms @FarhatKMehboob

— Brandsynario (@brandsynario) March 5, 2016
Sharmeen went on to emphasize that her documentary was not intended to show a negative side of Pakistan, rather to showcase how the system worked and helped save the life of an innocent girl who survived attempted murder. She added that in a progressive society people don't hide issues , they talk about them and this is what leads to change.
"Lots of people took part in saving Saba's life after she was shot in the face and left for dead, the person who called the ambulance, the team of surgeons who gave their best to save Saba's life and the inspector who caught the people who shot her and threw them in jail.  This shows that Pakistan is a functioning democracy"
According to Sharmeen a lack of public discourse on the subject of honor has created a mindset where the killing of a woman is not considered something illegal. "At times the culprits don't even serve jail time, and this gives the impression that it isn't a big thing at all to kill a woman, the mindset persists and the cycle of violence continues".
'Killing a woman is a crime ' and honour killings is too @sharmeenochinoy @SOCFilms @brandsynario #AGirlInTheRiver pic.twitter.com/H4RxiOa7s8

— Farhat K Mehboob (@FarhatKMehboob) March 5, 2016
She discussed the impact and the importance of making documentaries discussing her first Oscar winning documentary Saving Face and how it helped establish stricter legal action and jail sentences against acid attacks in Pakistan which resulted in less attacks being perpetrated. Now acid attacks are judged in Anti terrorism courts and receive rigorous punishment.
Sharmeen appreciated the Punjab government for approving the Woman Protection bill and expressed her hope that the nation would unite to eradicate the mindset that results in acid attacks and honor killings and develop legislation and strict sentences for Honor killings which are in her opinion nothing more than premeditated murders.
"There is no place for honour killings in Islam " Nawaz Sharif @SOCFilms @FarhatKMehboob #AGirlInTheRiver pic.twitter.com/nPhPqT9uyh

— Brandsynario (@brandsynario) March 5, 2016
She also responded to allegations made by Syed Noor who alleged that Sharmeen had copied her idea stating that it was impossible for a fictional movie to be replicated by a documentary maker, as documentaries are made on real life events.
And Saba's suffering was in no way fictional, to even allege that Saba's life events were somehow fabricated would be an insult to the 18 year old that survived an attempt on her life and bravely spoke out against her attackers.
The category for Documentary short film is never made for commercial success, film makers in this category  make issue based films whose main objective is to bring about a positive change.
Do we really want honour killings ?Islam gives women many rights @FarhatKMehboob @SOCFilms pic.twitter.com/DMGSGfOqom

— Brandsynario (@brandsynario) March 5, 2016
Upon being asked by a reporter why Sharmeen only chooses to showcase the negative aspects of Pakistan, Sharmeen replied by asking how all Pakistani journalists portray the image of Pakistan in public media. She went on to state that her documentary was nothing less than the truth and she will only show the honest face of Pakistan without fabrication. "If anyone has a problem with how I portray the image of Pakistan the simplest solution would be to fix the issues "she said.
Shoot Location: Filmed entirely in Pakistan.
Duration of the Documentary: 39 minutes and 22 seconds
Credits of the Documentary:
Edited By Geof Bartz, A.C.E.
Music By Wendy Blackstone and Gunnard Doboze
Co-Produced By Haya Fatima Iqbal
Camera By Asad Faruqi, Nadir Siddiqui, Khurram Victor, Haider Ali, Adrian Permal, Cyrus Viccaji and Mohammad Kashif
Senior Producer Lisa Heller
Executive Producer Tina Brown and Sheila Nevins
Produced By Sharmeen Obaid-Chinoy
Directed By Sharmeen Obaid-Chinoy
Sound By Nadir Siddiqui and Jasir Abro
Article Contributed by Waqas Rabbani and Farhat Kapadia Mehboob