People are waiting for Syra Yousuf to completely disassociate from her ex-husband and here's what they're suggesting! Unfortunately, all wishes can not be fulfilled.
Sairoz – What's Behind The Name?
Syra Yousuf's Instagram handle is called @sairoz and the name is basically an amalgamation of Syra and Shehroz. As is the case with many couples, people often join their names to make couple names and the same can be witnessed here. However, isn't it time to move beyond "Sairoz"?

Netizens Suggesting Changes
People have a special kind of love for Syra Yousuf stemming from her maturity, grace and strength. When the entire world was shunning her ex-husband over his blatant actions, she chose to take the path of silence!
Now netizens have been anticipating the actress and model to change her Instagram handle now. Now that the marriage has been concluded – that too on such a controversial note – people want her to disassociate from Shahroz Sabzwari.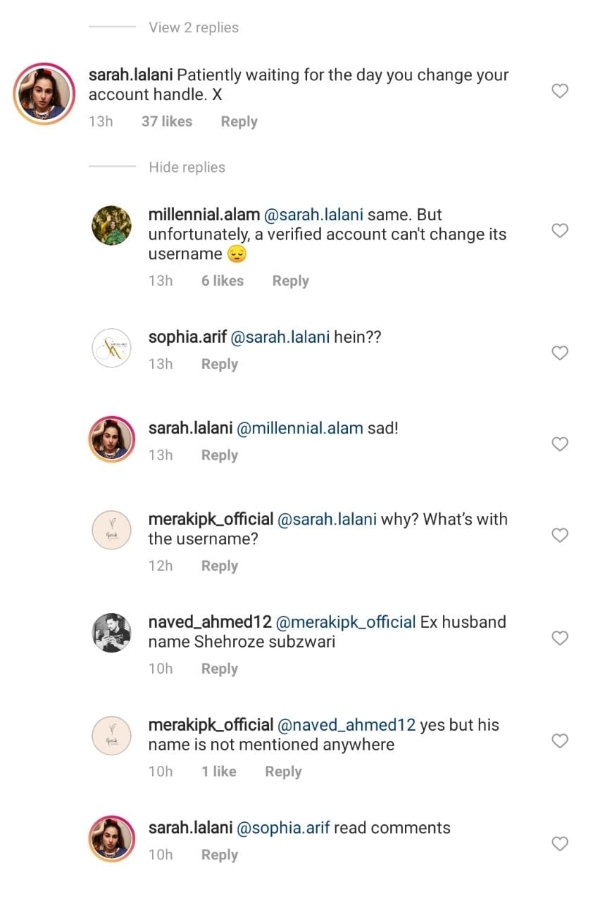 A follower and fan commented under her post and expressed her patiently waiting for the day Syra changes her username.
Bad News!
However, the bad news is that verified accounts can not change their Instagram handles. Syra Yousuf has a whopping 1.6 million followers. At this level, Instagram automatically verifies celebrities which makes Syra Yousuf unable to change her Instagram handle.
View this post on Instagram
Possible Solutions?
There have been several instances also where celebrities have gotten their names changed despite being verified. Perhaps it depends on the amount of clout they have and the connections they can pull?
However, we also believe that if a request is lodged with Instagram, mayhaps some exceptions can be made. After all, it is her account and her name — should she not be allowed to change it? Other than that she could also delete this account and start afresh. She can most likely build as many followers again if she mentions it on the official current one.
Syra Yousuf and a Long List of Recommendations 
Ever since this beauty has separated from her husband, people have been bombarding her with recommendations. Recommendations of whom you ask? Well of possible new romantic involvements!
View this post on Instagram
People are more than involved in her love life now and are after her to mingle with Bilal Ashraf. Previously another contender was none other than Sheheryar Munawar after their mind-blowing OK Magazine editorial. What is your imaginary OTP when it comes to Syra Yousuf?
Stay tuned to Brandsynario for the latest news and updates.