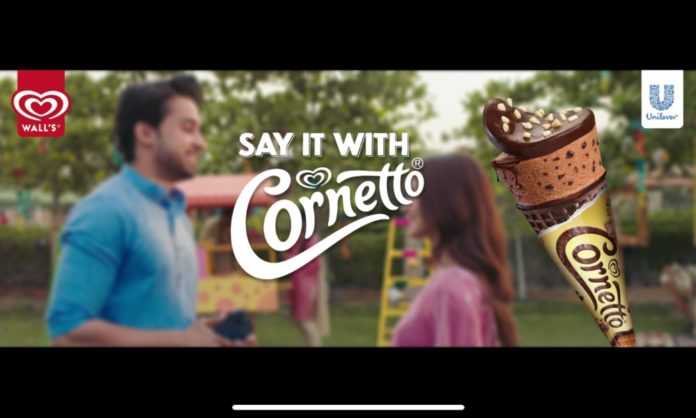 The internet loves to talk about things making buzz around the country and right now it's all about Cornetto Disc Brownie and it's super fun #SayItWithCornetto campaign that has everyone revealing how they ended up breaking that ice with their significant others and those they secretly admired but were too afraid to say it all too! 
Losing themselves in the sweet memories of love and laughter, we saw many Pakistanis reminiscing about what that first breaking the ice moment meant for them. Cornetto's TVC also tugged at heartstrings, featuring Bilal Abbas Khan and vocals of Asim Azhar, the ad reminded many of their own selves!
It all started with the love for Nazia Hassan of course, as the first thing so many people noticed was that Asim Azhar did pure justice to the brilliance of the late singer with his rendition of Aankhen Milane Walay for the TVC. People couldn't stop hearing it on repeat, and for many it reminded them of that love at first sight and the moments of pure joy they felt when they got those butterflies in their stomach for someone.
That, of course, had to get crazier as expected!
We soon saw many on the internet getting obsessed with just how Bilal Abbas Khan captures their own moment of falling in love with someone and breaking that ice as well. From talking about his innocence to the way he presents that sumptuous Cornetto Disc Brownie to his possible connection, it was all that people needed to bring forth their own stories of how they did and would break the ice. 
We saw many taking this hint and finally getting to #SayItWithCornetto over social media. Be it names like Tik Tok's own Kanwal Afab and Zulqarnain or Shanza Murtaza and Fizzah Rajput, there were so many popular names of the internet who showed us how they would break the ice just like Bilal Abbas Khan, with that deliciously rich Cornetto Disc Brownie in their hands!
But, while for some it was about how they would do it, others told the world how they actually did it! 
It all started with Facebook, where many groups like Parenting 360 amongst others took notice of how people are telling their stories of breaking that ice with their special someone and started telling their tales as well. There were beautiful moments shared over a Cornetto and even some about finding true love with that first bite, which was of course, enough to melt anyone's heart — including celebs!
All it took were those moments of warmth and love shared by others for the celebs to also take note of, and soon we had a plethora of super popular entertainment industry pairs talking about that special moment of breaking the ice between them! We saw Aiman Khan and Muneeb Butt post about how their first bite of ice cream together paved the way to their happily ever after, as well as Sarwat Gilani and Fahad Mirza revealing how their first ice-break was also over a Cornetto! 
With such fuzzy moments taking over the internet all over the country, it just had us 'aww-ing' at our screens throughout the day! Now, all we need to do is think about how we would #SayItWithCornetto!