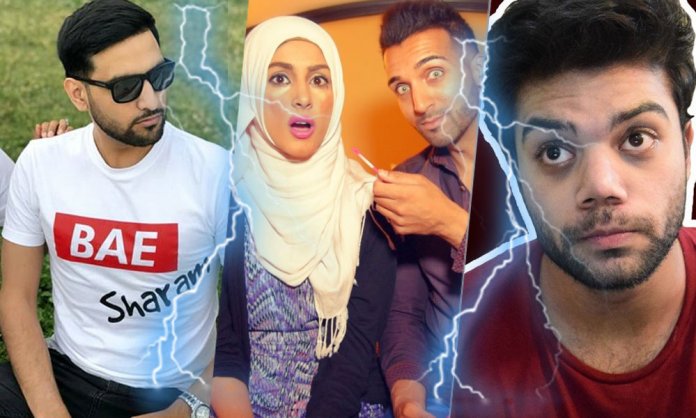 Content creators on YouTube are specific about the topic of their videos. Being followed by many, their content influences followers and aspiring YouTubers.
However, there are certain occasions when the content is not well-liked and the creator(s) face a backlash from their audience and peers in the same field.
Recently, famous Vloggers Sham Idrees and wife Froggy posted a video titled 'I Want a Baby Prank'.
In the video, Froggy is telling Sham that she wants to have a baby (which is a very personal conversation to have with your spouse). Whereas, Sham tells her that we cannot have one until after the Rukhsati.
It comes as a surprise how influencers openly discuss family planning and other intimidate details about their marriage and personal lives with thousands of viewers on public platforms.
Watch the video below!
https://www.youtube.com/watch?v=MqzZ_hXf11Y
This video is facing negative response from the people and Sham's fellow YouTubers have also criticised him for making such videos.
Sham Idrees-Ducky Bhai Controversy: Shahveer Jafry Breaks Silence
The Pakistani-Canadian Vlogger Zaid Ali took to Twitter, sharing how fed up he is of such type of content.
I am fed up of this. How long is this going to go on for? Is this the type of content we have came down to? We have such talented content creators in Pakistan.. yet this is the type of content which is trending. I have no words. pic.twitter.com/1J5BzY8qh2

— Zaid Ali (@Za1d) January 20, 2019
Another famous YouTuber Saad ur Rehman a.k.a. Ducky Bhai replied to Zaid Ali's Tweet and said that content creators have a responsibility as they influence countless people!
As public figures they have a responsibility and influence over countless people.. yet this is the crap they are doing. The funny thing is people find this cute and lovely.

— Saad Ur Rehman (@duckybhai) January 20, 2019
This is not the first time that Sham Idrees has faced criticism from followers. He also got trolled for making wedding pranks videos in the past. Also, Ducky Bhai and Sham Idrees got into an ugly social media war a few months ago that made headlines.
Zaid Ali & Ducky Bhai Take a Savage Dig at Shaam Idrees & Froggy!
Another Pakistani Youtuber, Furkan Shayk also shared his opinion on this ongoing Twitter thread:
I don't need to say anything, zaid him self knows who he is from inside, sham knows who is he from inside, such cheap thrills are part of their personalities. Zaid is doing nothing but taking personal grudges out at shaam, and zaid is nothing but a fag.

— Furqan Shayk (@FurqanShayk) January 20, 2019
Let's see if the story is going to take a new turn after Sham Idrees post his response.
Stay tuned to Brandsynario for more updates and news!