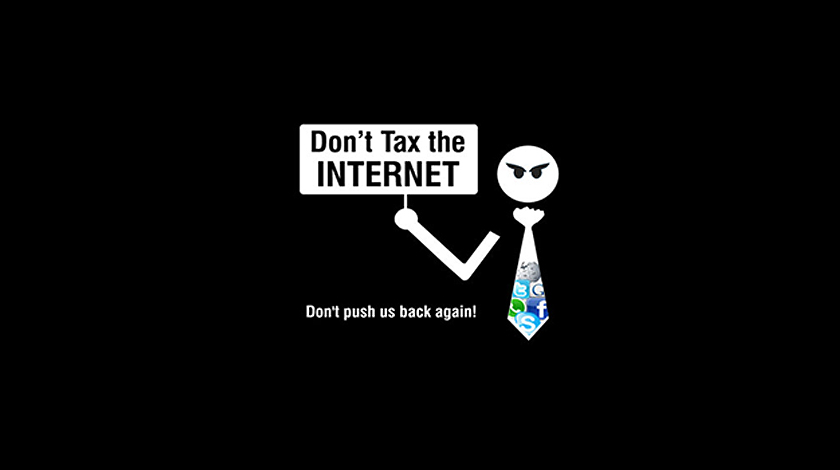 The Pakistani digital community has rejected the newly imposed internet taxes by the Government of Punjab and blacked out their websites' home pages as a protest.
Last week, on 28th May 2015, Government of Punjab imposed an astonishingly high rate of GST 19.5% on all internet services available in Pakistan. This includes 3G, 4G, EVDO, fiber and DSL services, with PKR 1500 or more monthly bill rates on those with a broadband speed of 2 Mbps and above.
While it is only the internet users of Punjab who will suffer for now, it is likely that if the digital protests fail, Islamabad and other provinces will follow suit.
Read More: Internet Tax in Punjab – Implications for Telcos
Outraged at the whopping GST rates imposed on internet usage, the entire digital community including digital publishers, internet service providers, and IT organizations have come together to protest.
As part of the protests, in order to force the government to revoke tax impositions, website owners and bloggers nationwide have implemented a digital blackout till their demands are met.
President of Information Communication and Technology Think Tank (ICT3), Sohaib Sheikh, expressed his indignation on the new rates and claimed that these will not only hamper the internet growth in Pakistan but will also discourage foreign shareholders from investing again.
Only last year, USD 1.2 billion investment was added to obtain 3G and 4G licenses in Pakistan. The investment saw an astounding rise in internet subscriptions to a whopping 15 million in just one year. 
The digital community has claimed, in a joint press conference in Lahore, that the upcoming spectrum auction and network rollouts are contingent on the revoking of the newly imposed tax rates.
With the new rates imposed, the government is likely to earn PKR 3 billion from internet taxes alone this year. However, what the government is failing to see is the consequent loss in GDP due to the inevitable slowing of the internet growth.
Read More: Sales Tax Doubled on Mobile Phones in Federal Budget 2015-16
According to PLUM research on Pakistan, as quoted by More Mag, the new tax rate will cause Pakistan's economy an estimated loss of PKR 100 to PKR 200 billion. This is in line with PEW research that indicates that 10% increase in broadband subscriptions help the national GDP rise by 1.5%.
On the other hand, CEO of job-matching website, Rozee.pk, pointed out that while the increased tax rates will adversely affect the internet industry, it won't affect the software industry the same way.
Government of Punjab has gone out of its way last year to help improve digitization in the process with incentives like public online libraries and free laptops. However, with the recent tax impositions, they have rendered not only all their own efforts moot but also, driven the hard work of telecom operators and cellular companies useless too.