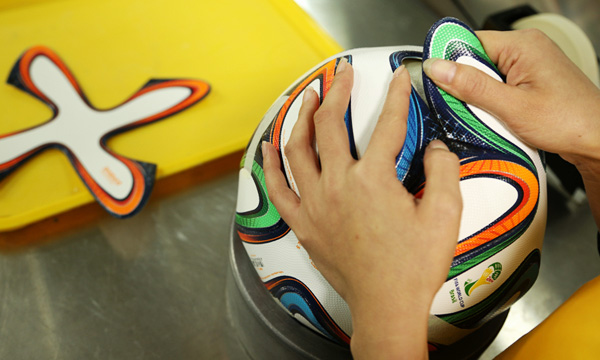 After having proudly manufactured the official FIFA 2014 World Cup football, Brazuca, Sialkot is all set for a wider export net of sports goods across the world.
With the help of Pakistan's largest technology incubator, Plan9, Sialkot has its own sports online startup, SportSkot, with an aim to bridge the gap between small and medium-sized enterprises and international buyers.
Sialkot has always been famous for its fine craftsmanship of handmade sports equipment including rugby balls, footballs, cricket bats and tennis balls. It first marked its flag at the globe with the export of Tango Ball back in 1982 for the 1982 FIFA World Cup.
Read More: Plan 9 – Pakistan's First Incubator for Technology Startups
Since then, the sports industry in Pakistan has flourished to a point where 85% of the soccer balls used globally are manufactured at Sialkot. Only last year, after the FIFA 2014 World Cup, around 42 million Brazuca balls were exported globally.
SportSkot, the brainchild of Danish Butt and Syed Junaid Akhtar, is created not only to help flourish the small industries in Sialkot but also, help local craftsmen have direct access to international buyers, without the need for brokers.
After having successfully established, SportSkot has recently received a whopping £90,000 seed funding from a UK based investor and supermarts owner, Waqas.
Read More: Kaymu.pk & Plan9 Promote Online Entrepreneurship
While talking to TechJuice.pk, Junaid Akhtar proudly explained how Waqas was one of the major initial clients, who after having seen the quality of SportSkot hosted products placed an order for mass production.
The orders quickly turned into an investment offer, with Waqas not only willing to offer investment for the startup but also, act as a mentor for the startup.
SportsSkot is only one of the excellent ideas incubated at Plan9 recently. Other startups which have managed to bag major funding include cloud-based application SMAC Factory, fashion startup Mezaaj and WiFi analytics and marketing tool, WiFi Gen.