A young and passionate photographer from Karachi, Sadia Khan, met Mark Ruffalo aka 'The Hulk' to cover the biggest project of her life.
Mark Ruffalo has played the role of the 'Incredible Hulk' for Marvel movies.
Sadia moved to London, UK in order to complete her studies in Business Management and to pursue her passion for photography. Though Sadia has met many other celebrities for her photo shoots but, in her own words, 'meeting Mark Ruffalo was the best experience ever'.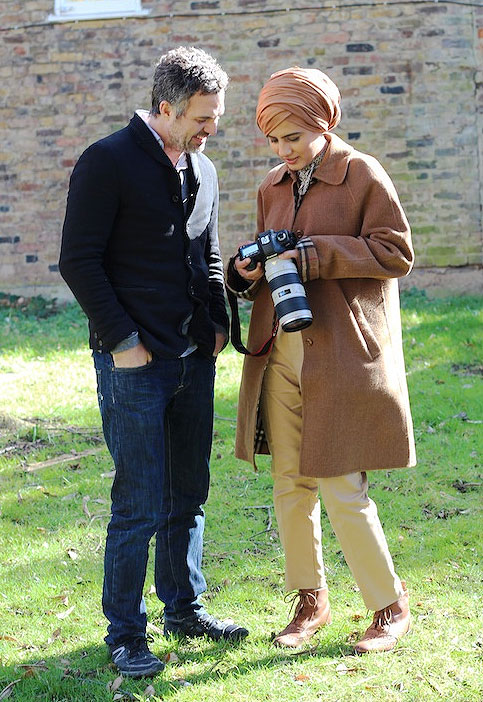 Sadia described Mark as "the most generous, gentle, humble and down-to-Earth human being I have ever met in my life". The photo shoot took place on March 2nd, 2015 and Sadia recall it as an incomparable day of her life.
"The 2nd of March 2015 in London was a great day in my life when I met Mark Ruffalo for a photo shoot. I waited at a local pub for him arrive. He was bang-on time and waved to me from the other side of the road. The greeting felt so warm when I said "Good morning, Mark"; in reply he smiled at me with a nod of his head. Though I was still shocked and mesmerised that Mark Ruffalo was next to me for a shoot, it wasn't difficult for me to start a conversation with him," said Pakistani photographer Sadia Khan to Aquila Style.
After the photo shoot, while sitting next to River Thames, Mr. Ruffalo and Sadia touched upon different topics about life in Pakistan and Asia.
Mark told her about his interest in different cultures and showed his immense fascination with Asian weddings and their shimmery dresses and powerhouse performances. They also talked about Islamic teachings and Pakistani society.
They chatted for a total of 90 minutes discussing some crucial and grave topics as well like poverty, terrorism, early marriages, women's rights and the charities that work for the welfare of the people of Pakistan.
Mark thanked Sadia through his official Twitter account.
Thanks for the kind words, Sadia.Pakistani photographer recalls life lessons from actor Mark Ruffalo http://t.co/ULfjgpvdcd via @aquilastyle

— Mark Ruffalo (@MarkRuffalo) April 9, 2015
@RDJ_Oscar Hopefully soon. I was very interested and had lunch with Sadia Khan (the photographer)and her fiancé. Great folks.

— Mark Ruffalo (@MarkRuffalo) April 9, 2015
We hope that Sadia keeps on extending her network and meeting new influential people in order to spread positivity about Pakistan.