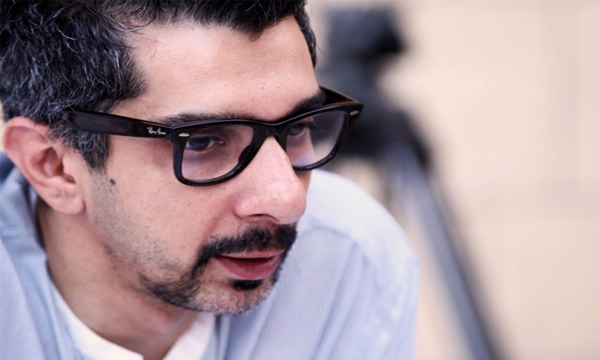 Amean J embarked upon a journey called 'Tasveer-e-Mumbai' to photograph Mumbai as the first installment of his cultural exchange via photographic endeavor 'Tasveer-e-Karachi'.
In an interview, Amean J said that the two cities share similarities,"Both cities are the commercial centers of their respective countries, with a large migrant population, and both are situated on the coast. The pre-Partition architecture is the same, too."
Amean J was attending Mumbai-Karachi Friendship Forum out of the ten days he was in Mumbai and participated by initiating 'Tasveer-e-Mumbai' after which the photographers from Mumbai will fly across the border to do the same in Karachi this July.
A party of four photographers went to Mumbai other than Amean as a part of this initiative including Farah Mahbub, Malika Abbas , Mobeen Ansari and Malcolm Hutcheson.
Amean wasn't new to the bustling city as he said, "It's difficult to figure out how to do something new in Mumbai, where every street corner has already been heavily photographed. But I've realised that freezing any moment has value when you look back at the photograph 20 or 30 years later."
The Hottest Fashion Trends for Women from Haute Couture Week
The photographs currently show glimpses of the daily Mumbai from doing chores to travelling around in the hot and humid metropolis.
"I am also very aware of people's body language and, because I'm a fashion photographer, I am especially attuned to what they are wearing," he also said.
On the downside, the conference was interrupted by Shiv Sena loyalists who called out Sudheendra Kulkarni, chairman of the ORF who organized it along with Pakistan, the supporters of terrorism. The participants of the initiative refused to cower in fear.
"We artistes are initiating a visceral dialogue. We have so much in common, such as musicians we love, cricketers and Bollywood," he concluded.
The photographs from the 'Tasveer-e-Mumbai' and 'Tasveer-e-Karachi' will be presented in an exhibition in both cities on August 14 and 15, respectively.
Stay tuned to Brandsynario for more updates.