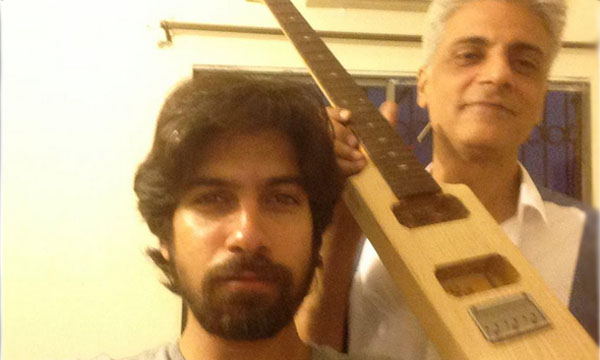 Renowned musician, Aamir Zaki, has crafted a bat shaped electric guitar, which interestingly enough can be used both as a musical instrument and sports equipment.
The star has been creating his guitars for several years now, which he uses in studio sessions and during live performances. However, this time round, he has crafted an exceptional piece, combining Pakistanis' love for music and cricket: a bat guitar.
With the ever amazing @aamir_zaki who just made a badass bat-guitar! pic.twitter.com/PGVFBE2w3L

— Mobeen Ansari (@Mobeen_Ansari) September 2, 2015

Made out of wood and fibre glass, Zaki's latest guitar creation is shaped in the form of a traditional bat with a guitar neck in place of the bat handle, featuring the usual electric guitar's plug and play option. Moreover, since the base area of the "bat guitar" is empty, Zaki claims that it can be used to play cricket and music both.
Read more: Taazi.com- Pakistan's First Legal Music Website Launched
While talking to Express Tribune, the legendary Jazz guitarist stated that he will be using the bat guitar for his next few live gigs before putting it up for sale for selected buyers only.
After making his stunning debut in Coke Studio last year, the Mera Pyar singer was more recently seen performing in Saleem Javed's comeback video for an unplugged version of Tum Mere Ho.