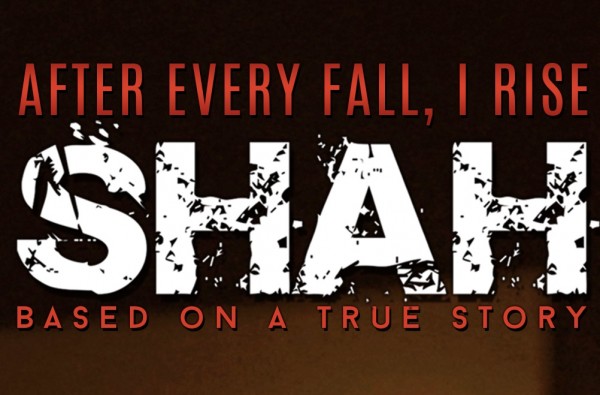 Pakistan's first ever biographical sports film "Shah" on the inspirational life of the legendary boxer Syed Hussain Shah has hit the silver screens on Independence Day 2015 and is all set to punch big numbers over the box-office against its other cinematic rivals.
A tribute to the uncelebrated champion and the pride of Pakistan, the revolutionary biopic unveils how Shah became the only boxer to be honored with an Olympic medal accolade in the nation's sports history of more than 50 years.
But soon after his Olympic achievement, Shah was forgotten by the public and media alike and he went back to a life of abject poverty.
Read more: Pakistani Movie SHAH: Ali Zafar & Boxer Amir Khan Show Support
The tale of blood, passion, triumph and defeat has been directed and penned by Adnan Sarwar, also playing the the lead role of the sports star Shah in the movie.
Answering to the press at the premiere,  Adnan said,  "I am extremely pleased that the film SHAH is receiving such an overwhelming response from the people of Pakistan. For the most part, it is due to Hussain Shah finally getting the kind of acknowledgement that he deserves. Seeing people walk out of the cinemas with tears in their eyes gives me hope that the treatment that was meted out to SHAH will never be repeated again."
Reportedly, the movie even received a standing ovation in the first twenty minutes during its premiere in Karachi.
Read more: Pakistani Movie Shah Clashes With Indian Movie Brothers on Independence Day!
View some pictures from the premier of Shah below.
Read the raving reviews of Shah as shared by Twitter town.
The halls goes into tears as Hussain Shah takes a bow at the premier of "Shah". A film based on his life as a boxer. pic.twitter.com/0ec2hZUwsb

— Ali Zafar (@AliZafarsays) August 15, 2015
Wow one word Shah! What a movie I can't imagine Syed Hussain Shahs life soooo inspiring….amazing performances… http://t.co/u4m7pHjTcO

— Tooba Siddiqui (@ToobaSiddiqui) August 14, 2015
SHAH the film .A powerful message ,An inspiring story.A tale of betrayal by ones own — Maheen Khan (@Maheenkhanpk) August 14, 2015
Hope the movie #Shah qualifies for the #oscars and the achievements of the legend get recognised for his contribution to the nation.

— Huma Adnan (@humaadnan) August 13, 2015
Standing ovation for #SHAH at Super Cinema. Impressive story telling and outstanding presentation by @adnansarwar_1 @aryfilmsary @1rfanMalik — Khurram Gultasab (@KhuramGultasab) August 15, 2015
SHAH IS SUPERB! JUST GOT OUT OF THE THEATRE – GOOSEBUMPS ! THIS IS THE FILM PRESIDENT AND PRIME MINISTER MUST WATCH ! #shah #pakistanifilm — Nabeel Qureshi (@nabeelqureshi) August 14, 2015
NOTHING captures a truer spirit of where we are as a nation & where we need to go than what I experienced tonight at #Shah #PakistanZindabad — adnanmalik (@adnanmalik) August 13, 2015
The muse & filmmaker in tears after premiere of #SHAH. This is the power of cinema. #PakistanZindabad @adnansarwar_1 pic.twitter.com/bRKeZKvl29 — adnanmalik (@adnanmalik) August 13, 2015
#Shah is a gift for the hard working ppl of lyari. I'd suggest to show it on large screens in that area.They can't afford a 600rs ticket — UMAIRICA (@Umairmirza) August 13, 2015
#SHAH – full marks for editing, background score and sound mixing; a beautifully told story with a… https://t.co/UYLaPgEEtm — Fatima U (@fatimablogger) August 16, 2015
misfortune, hardship -> drive,purpose,determination, success, fame -> tragedy, utter sadness, oblivion. This is #Shah in a nutshell — ammarah hk. (@mara1khan) August 15, 2015
#Shah – a voice for all the unsung sporting heroes of our nation! #pakistan #boxing #cinema #lollywood — zara iqbal (@zaraiqbal) August 15, 2015
#Pakistani cinema gearing up. Watched #shah yesterday. A great effort and a must watch #pakistan — zara iqbal (@zaraiqbal) August 15, 2015
Saw #Shah movie today. Excellent script, true story and acting. Hit my nerves hard. Won't let you forget the Hero that was never remembered! — Sage Revolter (@SageRevolter) August 15, 2015
#Shah what a brilliant movie. Amazing story telling. No songs no stupidity. Hollywood level of biography — Horny Mulla (@HornyMulla) August 15, 2015
Watched #ShahTheFilm today. Impressive.Great story telling #Shah. — Amna Awan | آمنہ (@amnawan) August 15, 2015
#Shah , what an honest movie. Heart broken yet loved it. Everyone should go watch it. #PakistaniCinema #UnsungHero pic.twitter.com/zz8O0L2fah — Hasan Jaswal (@hasanjaswal) August 15, 2015
#Shah gives strong punches to the feudals in our sports establishment & Answers alot many questions of our failure to reproduce legends. — abdulla (@cheems_) August 15, 2015
#Shah beats #Waar, an epic story of a Lyari boy becoming a world champion, brilliant movie highlightng hw v treat our true heroes — Mahwish Zahra (@mahvesh_zahra) August 16, 2015
Do you think Shah will box its way to the top and knock down Moor and Dekh Magar Pyar Sey? Share your views in the comments below.