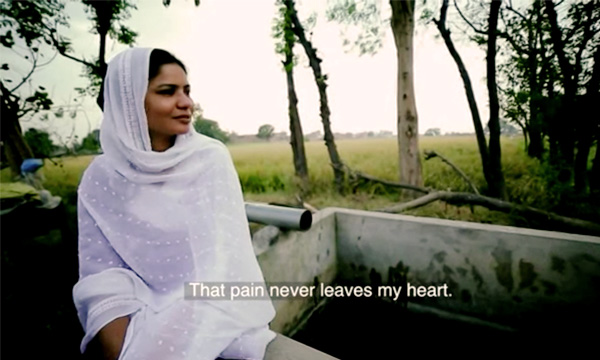 Pakistani documentary, Flight of the Falcons has been shortlisted among the top 10 documentaries for the 2015 Asia-Pacific Child Rights Award for Television. The 45-minute-long documentary focuses on the educational struggle faced by girls in Pakistan.
It unfolds the story of Sister Zeph, a Pakistani schoolteacher and her three students – 14-year-old Saira, 15-year-old Ayesha and 19-year-old Reena – as they defy the odds and battle against child marriage, physical punishment and societal pressures to help women acquire education and end illiteracy.
Conceived and directed by Shehzad Hameed, the documentary is produced by Infocus Asia and broadcasted by Channel News Asia.
Shehzad Hameed wanted to highlight the pressing issue of women education and the challenges they face in acquiring their basic right. He discovered Sister Zeph's free school online and was completely inspired by its achievements in Aroop village, Gujranwala.
While the filmmaker was fascinated by the courage and work of the Sister Zeph for her community, he lamented that lack of financial support is a hindrance in her vision.
Zephaniah Free Education School provides education and training to 200 women and girls throughout the week.
The school has produced 600 educated girls since its opening in 1997, many of whom are working as nurses, teachers and serving in other departments, and provides computer classes, beautician and stitching courses besides other programs to empower women.
Watch the video below:
Apart from girls' education in Pakistan, the issues that made it to the top ten list include migrant children in Malaysia and online sexual abuse in the Philippines.
Other documentaries that capture the attention of Asia-Pacific Broadcasting Union (ABU), CASBAA and UNICEF are as follows:
101 East: Japans Throwaway Children
101 East: Sabah's Invisible Children
101 East: Stalking Cyber Pedophiles
Get Real: Behind Closed Doors
Mukha: Musmos
Mukha: Sagwan Faces: Paddle
Reel Time: Bamboo
Undercover Asia: Cambodia's Child Predators
Undercover Asia: Girls for Sale
The award will be presented during the CASBAA Convention in Hong Kong on October 28, 2015. It acknowledges and appreciates the efforts of broadcasters and producers in pursuing high-quality children's television and better coverage of children's issues.