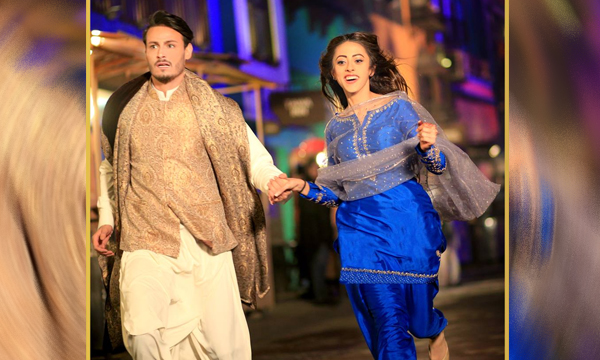 2017 dawned with quite a shaky start for Pakistan's film industry. The former Bollywood ban in theaters drove movie-buffs away from the cinema houses and no local flick managed to create a boom on the box-office.
However, February began with the news of Osman Khalid Butt and Ainy Jafferi's Balu Mahi hitting the silver screens. While the fate of the movie was expected to be the same as the rest of the latest films in cinemas, box-office results and reviews turned out to be quite a shocker, declaring that Balu Mahi is being loved worldwide.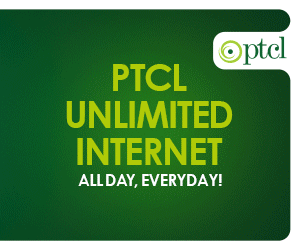 Box-office Report
While we all have been waiting for box-office statistics of the movie, the director Hassam Hussain shared surprising numbers depicting that Balu Mahi is minting massive moolah.
BaluMahi day 1 gross = Rs. 1 crore
Worldwide weekend gross = Rs. 32 crores
See for yourself what Haissam Hussain said in this Facebook Post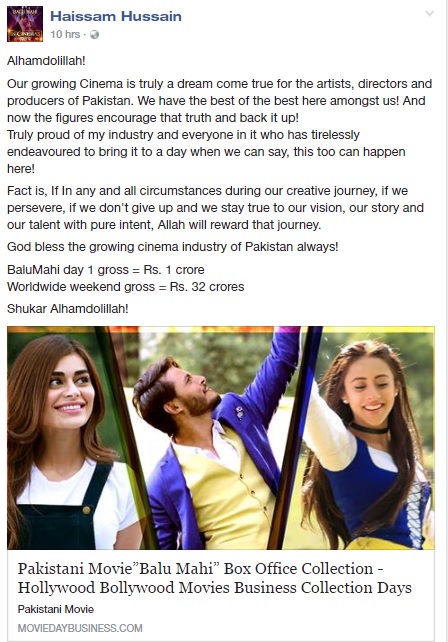 Meanwhile, a Facebook page was spotted, revealing that Balu Mahi reaped around 1 crore within 3 days.
Another report disclosed the following overseas business done by Balu Mahi.
#Balumahi [Urdu] 1st Weekend in Overseas : PKR 0.432cr from 3 Territory [ USA-Canada : $15168, UK : £18455, Aust : A$4024] @aClockworkObi

— Bollywood Numbers (@BollyNumbers) February 14, 2017
However, none of the numbers appear to be the ultimate and approximate statistics are giving the impression that the movie is doing a booming business.
Pakistani Movie Balu Mahi Review: The Out-Of-The-Blue Romantic Tale is Worth a Watch!
Audience Reviews
So far,  the critics and the audience are lauding Balu Mahi as a "Paisa Vasool" rom-com. From the breathtaking cinematography, a stellar soundtrack, and a filmy plot, OKB's debut had it all what the audience needed. While Ainy Jafferi plays the leading lady,  the sultry Sadaf Kanwal has seized all the spotlight and her seductive avatar has become the talk of the town.
Read what is buzzing on social media about Balu Mahi!
#BaluMahi has bought back families to cinemas to watch #PakiMovie. Bravo and brilliant work @aClockworkObi keep it up

— Fahad Imran Butt (@fahadbutt) February 13, 2017
@azher2k @HaissamHussain congratulations on the Brilliant #BaluMahi finally an actual Feature Film rather than a filmed drama

— SadafSays (@tomtomatoe) February 13, 2017
#BaluMahi was sooo amazing! ❤ absolutely loved it and loved @aClockworkObi and @ainooo so much pic.twitter.com/x73yeDLWzw

— manoo🙎🏻 (@mahnoorkhan_32) February 12, 2017
iGlad that I convinced my family to watch #BaluMahi. They were skeptical of how the movie may turn out. Wonderful job @aClockworkObi 😁😁

— SyedaTahreem bukhari (@3_bukhari) February 12, 2017
#BaluMahi is paisa wasol movie.@aClockworkObi as usual rock d stage.
PakCinema iz going up day by day bt #BaluMahi iz bs8 thn raees so far.

— Aqsa Nisar (@MuskaanNisar19) February 12, 2017
#BaluMahi is legit one of the nicest movies that I've watched. Huge round of applause to everyone involved. Aced it. @aClockworkObi @ainooo

— Maryam AbdulJalil (@xmarrryyyamx) February 12, 2017
Sadaf Kanwal was such a surprise package in balu mahi. Still not over it. Everyone should go and watch! #BaluMahi #SupportPakistaniContent

— Safwan Azeem (@SafwanAzeem) February 12, 2017
Have you seen Balu Mahi yet? Let us know in the comments below
Stay tuned to Brandsynario for more updates!