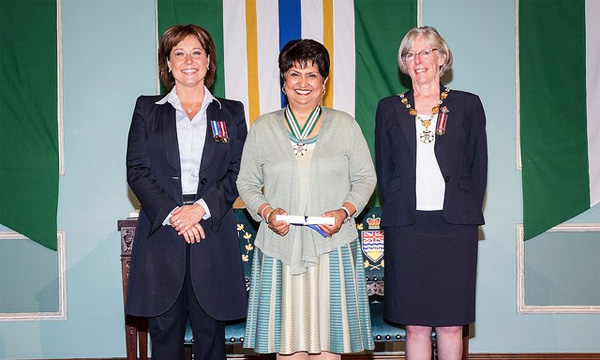 Senior Lecturer in the Section of Dentistry at Aga Khan University Hospital, Dr. Saida Rasul has won 'Order of British Columbia 2015' award for her extraordinary community services.
'Order of British Columbia 2015' was established in 1989 to recognize those who have served with the greatest distinction and excelled in any field of endeavor benefiting the people.It is the highest form of recognition accolade of the province.
Read More: Shazia Parveen – Pakistan's First Female Fire Fighter Saving Lives Since 2010
Starting as a volunteer at AKUH, Dr Saida applied her professional expertise to build capacity, set up dental clinics and develop preventive dental programmes as part of the University Hospital system operating in East Africa, Pakistan and Afghanistan.
During her tenure on the board of governors of SFU, Saida stewarded capital projects in excess of $200 million and championed the creation of the Centre for the Comparative Study of Muslim Cultures and Societies. With her husband, Firoz, Saida's philanthropy includes gifts of nearly $12 million to the BC Cancer Agency, Simon Fraser University (SFU), University British Columbia (UBC), United Way and BC Children's Hospital, among others.
Currently, she is working with volunteers to set up a diploma of dental hygiene program to train students who will go back and improve the oral health and general health of their rural communities.
To name a few, her accolades for sustained community contributions over three decades include, Honorary Doctor of Laws from SFU, the Queen Elizabeth Diamond Jubilee Medal and recent recognition by the British Columbia and Canadian Dental Associations.
Our best wishes are with Dr Saida and her team!
Share your expressions of congratulations and good wishes in the comments below!