Pakistani boy, Sumail Hassan had recently won the Dota 2 Asian Championship along with his team Evil Geniuses. This time around he alongwith his team is ready to compete for $6 Million in another gaming competition in the coming week.
From a community where parents would discourage their children from gaming, criticizing it as "a complete waste of time", sprung up a 15-year-old, smart as whip, a crackerjack and a zealous kid, Sumail Hassan.
Read More: Pakistani Boy 'Sumail' Wins $1.2m Dota2 Asian Championship 2015
Hassan has helped his team win US$ 1.2 Million earlier in February in Dota2 Asian Championships (DAC), one of the biggest Dota 2 tournaments is now looking up to cash prizes of millions. Using his ability and in-depth experience, Hassan has thrived to achieve more and more with his on hand skills in Dota 2.
With every ounce of my blood, with every breath in my lungs, wont stop until I am penomenal

— Sumail Hassan (@SumaaaaiL) July 11, 2015
Sumail Hassan moved to the USA just a year ago with his family.
On one hand when his family was struggling over accommodation trying to adjust in a new place, Sumail Hassan was on cloud nine. Better internet and more suitable environment for Dota 2 was a wish come true for him.
Unimpeded with lag, Sumail unleashed his beast online and shined clear in all arenas of the Dota 2. It was the time when his in-house gaming caught EG's (Evil Geniuses; one of the biggest e-sports team) eye and helping EG win Dota 2 Asian Championship made him even more popular and rich. They covered up his traveling expenses around the globe and gave him a handsome stipend besides the after-10%-cut winning prizes from the tournaments, not only this EG helped him skip studies and concentrate more on his gaming after talking to his parents and teachers.
From an age of seven Sumail poured himself into Dota 2 and after 9 years of persistent game play it is the virtual world of Dota 2 that has more reality to him than the real world. While most teenagers are inclined towards their studies or social life, Sumail enjoys himself indulged in online fictional battles. With his strong reflexes and great aggression he has a domination effect against his opponents.
Dota 2 Asiam Championship was the chance for him to mark his name. Taking a third-seed team to the finals was what Sumail did for Evil Geniuses with a triumph over Vici Gaming. He did not take a good start with 4 deaths and t0 kill on his account. But composed and waiting for right time to strike, he made his blow when his enemies scattered through the map, managing to score 4 kills in two minute time only stunning everyone in arena. He later assisted his team in a skirmish and with fire explosions and lightning bolts put three enemy players to death which gave him enough time to secure the Ancient and win the game for his team. He became the youngest most celebrated player in the arena with US$ 1.2 in bag for his team.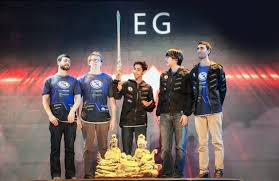 Earning as much as US$ 200,000 before even reaching his 16th birthday, this young hot-shot is now looking to make up millions in the month of August. He along with his team is up for International Dota 2 world championships going to take place in Seattle this August. The tournament will reward winner team with a grand prize of $6 Million.