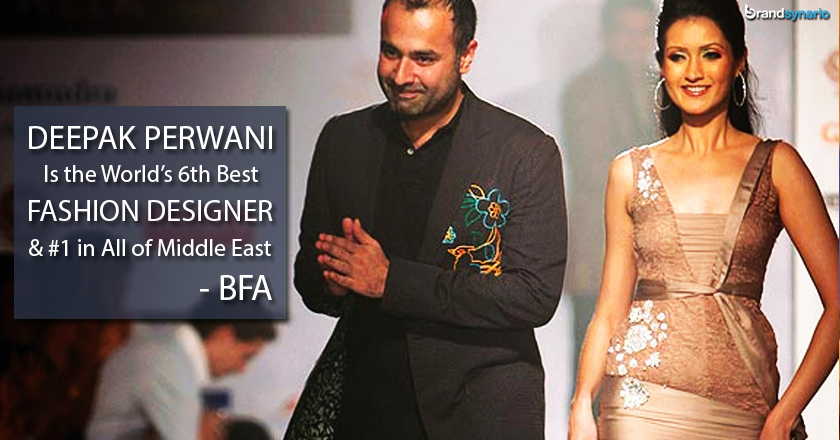 By Sami Iqbal
Deepak Perwani becomes the first Pakistani to be crowned amongst world's top 10 fashion designers, by the prestigious Bulgarian Fashion Awards (BFA) 2014. Perwani has also been named the #1 in the Middle Eastern Region. The star Pakistani earned 7,295.77 points in the world.
Not only this – Deepak Perwani won the Charity & Humanitarian Support by scoring 726 points for a commendable toll of 11 of his nominated initiatives.
Also, Perwani with 6 unique scores, is also declared the Winner of the special International Bulgarian Award Eirene 2014 (also a synonym of BFA) for Unique Acknowledgments with Guinness achievements.
The house, Deepak Perwani, was nominated a few months back. Perwani has won a total of five Eirine Awards, for himself and his country, and his house has received four slots at BFA and two slots at the SOFIA Fashion week couture.
The appreciation has also made the esteemed Pakistani fashion designer another 6000 Euros richer.
Perwani explained further that Eirene awards (or BFA) are nothing like the usual awards. In fact, they are named after the Greek goddess of peace and prosperity, thus it honors fashion designing a rather unique manner. The celebrated and privileged work of art, are from the artists' respective countries, this also include promotion of humanitarian causes like mass education and women empowerment.
"This award is not based just on fashion, but your [the designer's] contribution as an entity." – Deepak Perwani while speaking to Dawn.
@DPerwani of #FashionPakistan outshines designers & declared the "6th best in the World". pic.twitter.com/09lb86Mssl

— Fashion Pakistan (@FashionPakistan) August 12, 2014
Deepak Perwani has been one of Pakistan's most revered Fashion designer, and with this International acclamation to himself – his house corroborates its formidability in the Pakistani fashion industry.