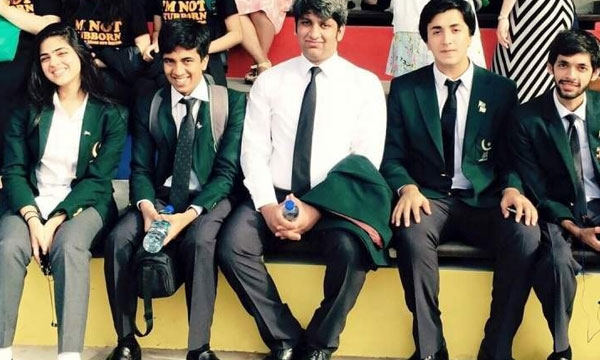 The team of Debating Society of Pakistan has made it to the semi-finals of the World Schools Debating Championships-2015 which is being held in Singapore.
The under-19 team will be competing against Singapore on Tuesday. The team consists of six members that include Asad Zafar Haider (Aitchison), Hamza Tariq (LGS Paragon), Hassan Qaiser (Salamat Internatio­nal Campus for Advanced Studies), Taha Masud (Westminister) and Zainab Hamid (Karachi Grammar School) along with their coach Sofyan Sultan.
Also Read: Pakistan Born Helps US Fight Food Wastage And Hunger Problems
Up till now the Pakistani team has won all the eight preliminary rounds against different teams; Ireland, South Korea and Peru among others. The team has remained undefeated and all eyes are on them as they play for semi-finals.
Pakistan National Debating Team won its match against the Philippines.  In the quarter final of the motion, the team defeated Greece on 4-1 and was selected from grueling national camp.
See More: Pakistani Nighat Dad is Time Magazine's Next Generation Leader
Since 2005, it is the first team of Pakistan that has made it to the semi-finals of the World Schools Debating Championship. This competition takes place between the teams that come from over 50 countries. Teams from Pakistan have been attending this event since 1991. This is the fifth time that Pakistani team qualified for semi-finals in this competition.
In previous four events, Pakistan qualified for the final twice. Apart from this completion, Pakistan has also won the award for 'Best Team with English as a Second Langu­a­ge Award' five times.