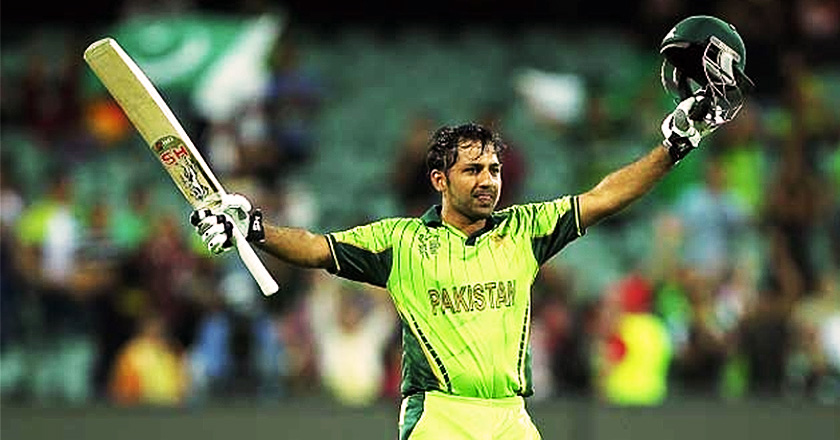 The saving grace for the Pakistan cricket team in ICC World Cup 2015, Sarfaraz Ahmed, is ready to begin a new journey of life.
The 28-year-old cricket superstar confirmed in an interview that he is all set to get married on 22nd May 2015. However, his wife to-be's Twitter account says otherwise.
@iPakistani10 @SarfarazA_54 date has been changed now

— Khushbakht A Shah (@KhushSarfaraz) May 4, 2015
He quoted his marriage as a "love marriage arranged by mother". His fiancée, Khushbakht A. Shah is currently accepting congratulatory messages on Twitter.
While the news of his upcoming wedding made rounds, a family picture showed up on social media platforms confirming the news; mistakenly, everyone thought the girl in the picture was the bride-to-be.
However, Sarfaraz's fiancée has clarified all rumors and stated that the girl is actually Sarfaraz's sister! (oops!)
@mepakistani7 kindly remove the pic !! It's Sarfaraz's sister

— Khushbakht A Shah (@KhushSarfaraz) May 5, 2015
@Hamxa96 @SarfarazA_54 plz remove the picture! It's giving wrong perception

— Khushbakht A Shah (@KhushSarfaraz) May 4, 2015
The Karachi-based cricketer has had a short run in his career but even then, he outperformed every time and impressed all with his outstanding skills. Sarfaraz Ahmed rose to stardom when he finally got a chance to showcase his talents at the recent World Cup tournament.
While his outstanding performance could not outweigh the terrible performances by the team, he still managed us to take our cricket team to the quarter finals.
Here's wishing Sarfaraz Ahmed all the best in his new life!