UPDATE: Many Pakistani celebrities and veteran Pakistani cricket players have issued statements in regards to Afridi's 'more love in India than Pakistan' statement; some have supported his claim while others did not refrain from bashing him. Celebrities like Fawad Khan, Meera, Javed Miandad, Misbahul Haq, Sunil Gavaskar and coach Waqar Younis have voiced their opinions.
Coach Waqar Younis stood by his skipper Shahid Afridi Tuesday over his declaration that Pakistan's cricketers receive more love in India than back home, saying critics should stop stirring up trouble.
Former Pakistani captain Javed Miandad has been at the forefront of the outrage over Afridi's comments at the weekend shortly after the team's delayed arrival for the World Twenty20 being played in India.
But Younis said Afridi's critics were making something out of nothing and he should not be criticised for wearing his heart on his sleeve.
"This is something he felt. It's his emotions," the former fast bowler told reporters in Kolkata on the eve of Pakistan's opening match in the World Twenty20 against Bangladesh. 
"I believe we should leave it at that rather than creating a controversy out of nothing. We are here to play cricket, to beat teams," he said ahead of Pakistan's opening rubber against Bangladesh.
"My message to the boys is just leave everything behind. This is about playing some quality cricket and playing for the nation."
India's batting great Sunil Gavaskar on Tuesday said Afridi's comments would help dull the hostility of the usually raucous home crowd at Eden Gardens, the venue for the much-awaited India-Pakistan tie on March 19th.
"Emotions run high whenever India play Pakistan," Gavaskar told the NDTV news network. Test Captain Misbah ul Haq showed support for Afridi and clarified that Afridi meant well when he said this.
Actress Meera too had a message for Shahid Afridi and said that; "the players give more of their opinions rather than playing". 
Speaking to the media in Lahore in a press conference, Meera said;
"Please play very well. You're in India representing Pakistan and you have to return as winners. Don't give into the pressure, give the pressure. I hope you play well."
"We have a team of confident performers; it's one of the best in the world. I'm sure they'll play superbly."
She even invited the team to watch her upcoming movie 'Hotal': "I invite the whole team to watch [my next film] Hotal upon their return to Pakistan and ask them to support Pakistani cinema."
On the other hand, the Pakistani heartthrob Fawad Khan backed Afridi in the row stating that Afridi's statement was blown out of context.
"What happened with Afridi, I think it happens everywhere and anywhere that someone comes and creates an issue saying 'You said wrong or did wrong'. When Afridi said 'Indian fans have given us more love than what we get in Pakistan,' it was in some other context but something else was made out of it," Fawad said.
The Khoobsurat actor further stated, "I am excited. There is always an excitement of India-Pakistan match. It is one of the best competition and a fun competition. When I was a kid I used to take the results on heart but now I take it just as a match which has lots of fun."
---
T20 captain of the Pakistan cricket team, Shahid Afridi clarified his "more loved in India than Pakistan" statement on Monday; he gave the following statement after the controversy took shook millions of his fans;
In order to tone down the controversy, Afridi clarified that he did not intend to disrespect his fans. "I was only trying to send a positive message in a diplomatic way," Afridi explained.
"Whatever I am today, is only because of Pakistan and the fans in Pakistan. Nothing is more important to me than Pakistan and people of Pakistan," he added.
The skipper further stated, "I am not just the captain of Pakistan's cricket team I am representing the whole country here. The one statement I gave recently should be taken as positive."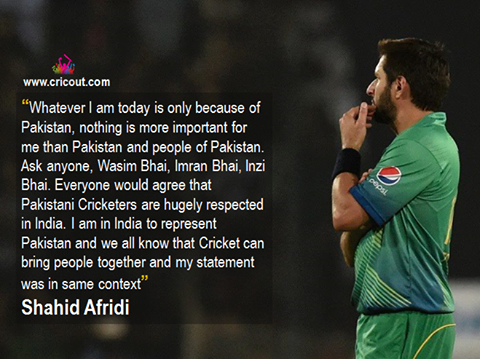 Afridi also added that former Pakistani greats such as Wasim Akram, Waqar Younis, Inzamam-ul-Haq would also say the same thing about India. "Even if you ask the former greats such was Wasim Akram, Waqar Younis, Inzamam-ul-Haq, Imran Khan they all will say the same thing. People in India worship cricket and it is like a religion here," Afridi added.
"I tried to give a positive message in India stating that Pakistani Cricketers are respected in India. My message was in a positive sense. I can't help if one is trying to find negativity out of it", the 36-year-old player said.
---
Pakistan's T20 cricket skipper Shahid Khan Afridi has been served with a legal notice on Monday, over his statement "more loved in India than Pakistan".
Speaking during a press conference in Kolkata on Monday, Shahid Afridi said that the Pakistani cricket team has always enjoyed playing in India and have always received immense love from the Indian crowds, even more than Pakistan. "We have always enjoyed playing in India and have been loved by Indian crowds more than crowds back home in Pakistan. Cricket has always brought people together and I think politics should be kept away from cricket," Afridi said.
The notice was sent by Judicial Activism Panel Chairman, Azhar Saddiq at the Pakistan Cricket Board (PCB)'s official address.
The notice highlighted the fact that building diplomatic relations with the neighboring country is the government's responsibility and not a cricket player's. It further condemned that the Pakistan team captain, representing the team at an international forum, should not have issued such a statement.
Javed Miandad, the former Pakistan captain denounced Afridi 's statement as shameful saying that "Players making such statements should be ashamed of themselves."
In addition, the notice demanded Afridi a clarification of his statement or else he'll be charged with treason charges, under Article 6 of the Constitution.
The Pakistan cricket team is presently in India, participating in the World T20 2016 tournament.
Pakistan is to begin their Super 10 campaign on Wednesday, 16th March. India has remained undefeated at the hands of Pakistan in a World Cup.
Pakistan's very first match will be held against a qualifier team on 16th March at Eden Gardens, Kolkata. The first match of the tournament between Pakistan and India is to be held on 19th of March at the same venue.
Pakistan will then take on New Zealand on March 22nd and Australia on March 25th in the Group B matches; the matches will both be held in Mohali.
WT20 2016: "We Get More Love in India Than in Pakistan" – Shahid Afridi
Stay tuned to Brandsynario for more updates.