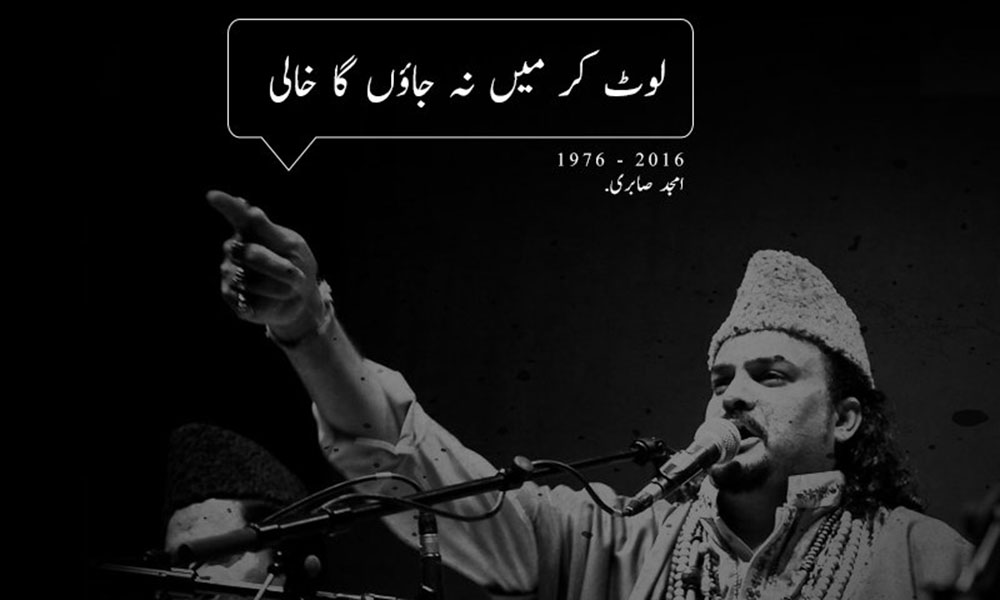 Yesterday was yet another dark day in the history of our country. For yesterday, we lost a national hero. The news of the untimely demise of the famous qawaal Amjad Sabri, shook the entire nation to its core.
Amjad Sabri was killed when his car came under attack in Karachi on Wednesday.
Reports suggest he was on his way to record an iftaar transmission for one of the TV channels.
Politicians, journalists, celebrities and of course the qawaali enthusiasts and fans alike, mourned the loss of Amjad Sabri.
Here's what they had to say about the revered legend:
Heart breaking Loss of another legend …inna lillilahi wa inna elyhi rajion#amjadsabri https://t.co/lz510JvM3t

— Sonya Hussyn (@soniahussyn) June 22, 2016
Please there is NO politics in the murder of #AmjadSabri ..just grief, sorrow & anger…who do we beg for our security?

— Fakhr-e-Alam (@falamb3) June 22, 2016
May Allah forgive his soul . Extremely saddened by his untimely demise #AmjadSabri pic.twitter.com/f10d4LvrFO

— Junaid Jamshed (@JunaidJamshedPK) June 22, 2016
Give me back my land of Bulley Shah, Baba Fareed, Shahbaz Qalandar, Nizamuddin Aulia, Hazrat Amir Khusro…of love, humanity & #AmjadSabri.

— Hina Khwaja Bayat (@HinaKhwajaBayat) June 22, 2016
#AmjadSabri in #ShaneSeher with us on 8th June. #RIPAmjadSabri https://t.co/pr5KKP0elg pic.twitter.com/QRFgw6IduJ

— Sanam Baloch (@SanamBalochfans) June 22, 2016
Amjad Sabri killed as car comes under attack in Karachi. https://t.co/ltVAPECb42

— Hamza Ali Abbasi (@iamhamzaabbasi) June 22, 2016
No words. This is extremely sad, disturbing and unacceptable specially since he had submitted an application for his protection! #AmjadSabri

— Ali Zafar (@AliZafarsays) June 22, 2016
Singer Rahat Fateh Ali Khan expressed his grief and condolences on the sad demise of Amjad Sabri, saying, "People will come and go, but Amjad Sabri is such a pillar of Pakistan who will stay with us for good".
Sad and shocking.. Huge loss to the nation. Prayers for the Sabri family. Thank you Amjad Sabri… https://t.co/vGr5yYMrL5

— Mahira Khan (@TheMahiraKhan) June 22, 2016
As long as infection of terrorism is not cured, the innocent people will continue to die at the hands of terrorists. #AmjadSabri

— Dr Tahir-ul-Qadri (@TahirulQadri) June 22, 2016
#RIP #AmjadSabri pic.twitter.com/Dxeww0RBZO

— Hina Butt (@hinaparvezbutt) June 22, 2016
SHATTERED, hating this News. Lost a loving & caring friend.. Pakistan Lost 1 of its finest talent… Amjad Sabri..

— Faisal Subzwari (@faisalsubzwari) June 22, 2016
Qismat me meri chaeen say gena likh de
Dobay na kabhi mera safina likh de
Maula Ne likh dia meray dost#AmjadSabri pic.twitter.com/Wi0mvqgF5T

— Ali Haider Zaidi (@AliHZaidiPTI) June 22, 2016
Listening to Shaheed Amjad Sabri's last words of Dua made me burst into tears. Indeed we belong to Allah & to Him shall we return.

— Maryam Nawaz Sharif (@MaryamNSharif) June 22, 2016
Heart-wrenching.. deeply saddened 2 know abt the assassination of renowned Qawal Amjad Sabri sb.. V lost a beautiful voice & a human being..

— Shehbaz Sharif (@CMShehbaz) June 22, 2016
Shocked at the murder of famous qawwal Amjad Sabri & his companions in Karachi. A complete failure of law & order & writ of the govt.

— Imran Khan (@ImranKhanPTI) June 22, 2016
I can't believe , We lost a legend like Amjad Sabri , a true friend, having such huge fan following still so… https://t.co/jWW2OLdInv

— Waqar Zaka (@ZakaWaqar) June 22, 2016
Deeply saddened over the demise of Amjad Sabri who was shot dead in Karachi. Inna Lillahe wa inna elayhe rajeoun!

— Sheheryar Munawar (@ItsSheheryar) June 22, 2016
.. Amjad Sabri, our famous Qawal, is no more. Extremely disturbing and disappointing on every level. Don't know… https://t.co/dTq253OVlh

— Xulfi (@zulfiqarjkhan) June 22, 2016
Dr #AamirLiaquat Husain giving tribute to #AmjadSabri in #PakRamazan 16th Iftar #GEO #AamirLiaquatNonStop pic.twitter.com/AzEP0pps1B

— Pak Ramazan (@PakRamazaan) June 22, 2016
Last picture of Amjad Sabri (Martyred today June 22) with Mr Ansar Burney, Advocate at PTV Home Sehri program pic.twitter.com/Oq0qEW6PJb

— Ansar Burney (@AnsarBurney) June 22, 2016
Amjad Sabri .. This is such a tragic news. May Allah have mercy on his soul. Ya Allah Reham!

— Mohammad Irfan (@M_IrfanOfficial) June 22, 2016
Innalillahi wa inna ilaihi rajioon. May Allah grant Amjad sabri jannat e firdous and give sabr to his family. Ameen #AmjadSabri

— Junaid khan 83 (@JunaidkhanREAL) June 22, 2016
sad new for the whole country.may your soul rest in peace.INNA LIALLAH HI WA INNA ELAHI RAJOUN pic.twitter.com/XWm8LDAfKs

— Kamran Akmal (@KamiAkmal23) June 22, 2016
Dont have words 2 write..shocked on the tragic death of a person whose voice inspired millions around the world..a big loss #AmjadSabri #RIP

— Ahmad Shahzad (@iamAhmadshahzad) June 22, 2016
#AmjadSabri is no more with us ☹ #TMS pic.twitter.com/N9hCUkdwto

— Sanam Baloch (@SanamBalochfans) June 22, 2016

May you rest peace sir, for your voice rekindled the faith of many.
Stay tuned to Brandsynario for further updates.