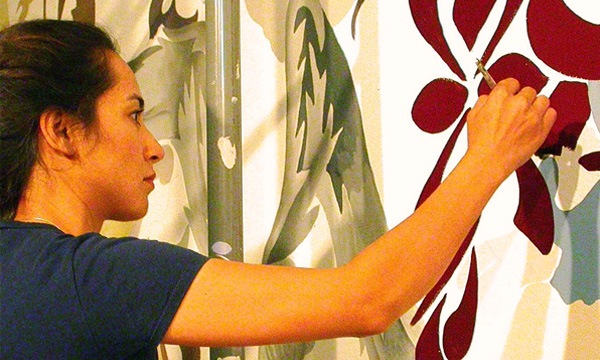 Pakistani-born Shazia Sikander is literally taking over Times Square in New York City, with her digital art displayed on the electronic billboards. It will stay there for all of October. The showcase is a part of the Midnight Moment, a monthly presentation by The Times Square Advertising Coalition (TSAC) and Times Square Arts.
[fb_embed_post href="https://www.facebook.com/photo.php?fbid=1477948999176550&set=pb.100008843913540.-2207520000.1444197353.&type=3&theater/" width="550″/]
Recognized by the MacArthur Foundation as a "genius" fellow in 2006, she's led exhibitions at major art museums across the world. The Pakistani-born artist says art has always been a "ticket to life," but what distinguishes Sikander's art from her contemporaries is her training in a centuries-old handmade form of Islamic art — the bejeweled world of Indo-Persian miniature paintings.
According to PakistanArtsNews, Sikander "manipulates hundreds of digitally animated drawings to create the idea of swarming, or collective behavior, as an observable phenomenon in Gopi-Contagion, which will be shown on Times Square's electronic billboards from 11:57 pm to midnight, each night in October."
Born in Lahore, she studied Fine Arts at The National College of Arts, Lahore. She then moved to the United States and attended the Rhode Island School of Art and Design, where she received a Masters of Fine Arts in 1995.
Watch the video below:
Sikander has been the recipient of numerous awards, including the Inaugural Medal of Art presented by (then) US Secretary of State, Hilary Clinton in 2012.