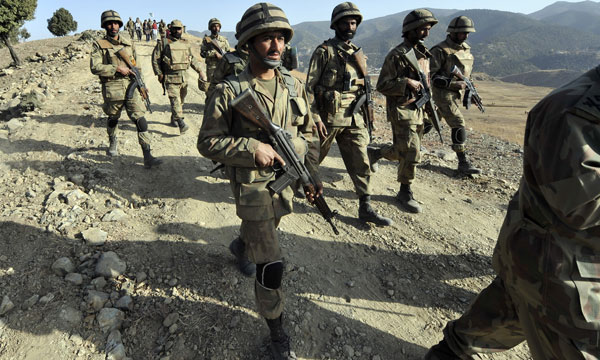 The Pakistan Army has secured the Gold Medal in the very prestigious Cambrian Patrol held in the U.K., winning over 140 other teams, with the Indian Army securing the silver medal. The gold medal is shared with the New Zealand Army.
The Exercise Cambrian Patrol is the roughest and most difficult military test to date, and is highly demanding both physically as well as mentally. It was held in Wales and soldiers from countries all over the world participated in this annual event held by the 160th Infantry Brigade and Headquarters Wales.
The test involves a complete evaluation of the dedication, stamina and military skill-sets of the soldiers, as they maneuver through the seven phases of the exercise.
After instructions are given to the patrol commanders, the teams are transported to drop-off points on the hills of the Welsh Black Mountains. From here they have to face a number of challenges, which include walking up to 55 km with 60 lbs of equipment on them, do enemy reconnaissance, face enemy attacks, as well as register first aid.
The Cambrian Patrol is a two-day mission and participants have to be focused all day and night in order to complete it.
On completion of the mission, soldiers receive a debriefing and an equipment check to make sure everything is in order.
Based on their performance, the soldiers are marked using a specific system of points, which are then, on completion of the mission, used to determine if they won gold, silver, bronze, or merely a merit certificate.
This Exercise Cambrian Patrol dates back to 1959, when a weekend training event was developed by Welsh Army soldiers. It involved a long distance march and a shooting match, taking place in the Cambrian mountains.
The Cambrian Patrol of 2015 was held from October 16th to October 25th. This was the first year that soldiers from Bosnia participated, with a record number of patrols from all over the world in attendance.