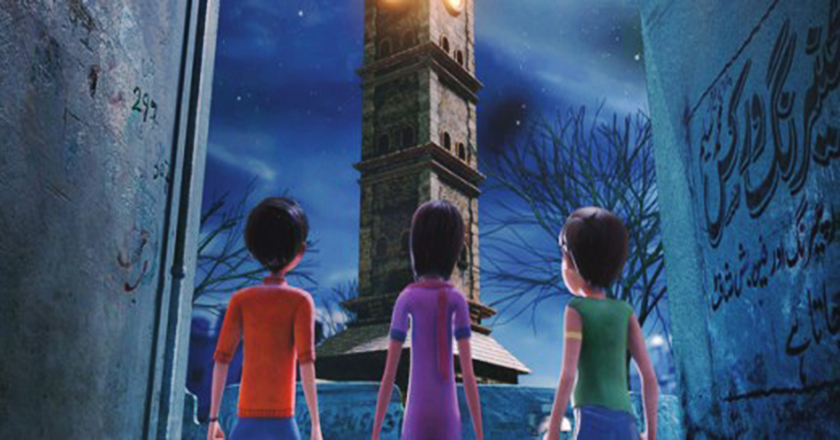 Good news for Pakistani animation enthusiasts! Waadi Animations confirms the release for "3 Bahadur" (#3Bahadur) Pakistan's first ever animated superhero full length film, which is set to release on 22nd May 2015.
A lot is in the works for 3 Bahadur's promotion, starting with the official Comic Strips Series in February – the side adventures of the 3 lead characters dealing with daily Pakistani matters within their community. A dedicated website will also be launched, showing details on the film, story, characters as well as photos, music and other exclusive BTS videos.
A Children's Book is slated for April 2015, with smart phone games on the drawing board for the Android and iOS systems.
The Plot:
Amna, Saadi and Kamil are three eleven year olds who live in the fictional town of "Roshan Basti" (Town of Light). These spirited kids set out to save their community from the many evils that plague it.
The film is a journey of fighting back, taking charge, and finding support and love in the most improbable of places. Oscar winner Sharmeen Obaid Chinoy, CEO of Waadi Animations, is also the Creative Director of '3 Bahadur' with ARY Films extending its expertise in distribution and marketing of '3 Bahadur'.
The original soundtrack for '3 Bahadur' has been composed and produced by Pakistani musician Shiraz Uppal. Produced entirely in Pakistan, this animated feature promises to set a new standard for animated fiction and content geared towards children in the country.
Waadi Animations, a joint venture by SOC Films and ARY Films, will be sharing more details regarding the production, voice actors and crew members in 2015. All media management of '3 Bahadur' is being handled by Lotus Client Management & Public Relations.
'3 Bahadur' is set to release on 22nd May 2015 across Pakistan.
Watch the exclusive BTS video here:
Teen Bahadur – Official Behind The Scenes Video #1 from Waadi Animations on Vimeo.