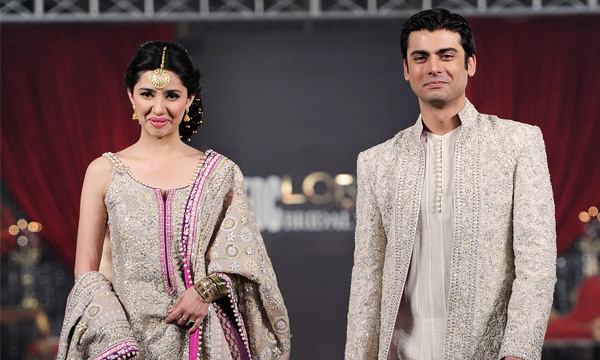 Fawad Khan and Mahira Khan's respective movies are facing significant disruption in India, as Shiv Sena has plans to cause a whole lot of trouble for Indian movies with Pakistani cast members.
Shiv Sena, a junior partner that is ruling in alliance with Bharatiya Janata Party in Maharashtra state government in India. Their leaders intend to prevent Mahira Khan and Fawad Khan from promoting their respective films in Maharashtra – Mumbai being its capital city.
Mahira Khan is set to star in 'Raees', which also stars Shahrukh Khan and is directed by Rahul Dholakia. Nawazuddin Siddiqui is also set to appear in the film.
Read: Pakistan vs India Cricket Series: Shiv Sena Protests Against BCCI
Fawad Khan's 'Ae Dil Hai Mushkil' is a Karan Johar film eagerly being anticipated in both India and Pakistan, and stars Aishwarya Rai Bachchan. Additionally, icons like Ranbir Kapoor and Anushka Sharma will also star in the Karan Johar movie.
"We are not really bothered about who is signing these Pakistanis in their film. Karan Johar, Farhan Akhtar, Shah Rukh Khan etc are responsible citizens and they should not cast Pakistanis in their film," states Akshay Bardapurkar, who is the general Secretary of the film wing of the Shiv Sena – 'Shiv Sena Chitrapat Sena'.
Read: Bollywood Celebrities Criticize Shiv Sena Attacks on Pakistani Artists
The groups attempt to prevent film promotions in Mumbai are quite damaging to the success of the movies, as promoting films in Mumbai are of abject importance. Mumbai is considered to be the entertainment capital of the country, with local as well as international media eyes focused on it for new and promising content from the Bollywood film industry.
It is not unknown to anyone that India and Pakistan have remained rivals from the moment of their respective independences, and Shiv Sena seems committed to making sure that this does not change.
Read: Mekaal Hasan Band Concert Cancelled Due to Shiv Sena Protests
The effort to thwart the success of Mahira Khan and Fawad Khan's movies comes after numerous other similar actions taken by Shiv Sena.
The Mumbai offices of India's Cricket Board were stormed on Monday by these activists in order to obstruct the talks between officials concerning the restarting of matches between India and Pakistan. Additionally, Ghulam Ali – a legendary Pakistani singer – was deterred from performing in Mumbai, resulting in a cancelation of his concert.
"We have taken a stand not to allow any Pakistani actor, cricketer or performer to step on Maharashtra soil," claims Bardapurkar.
Indian Singer Abhijeet Calls Ghulam Ali a 'Terrorist'!
Pakistan-India relations have been distinctly strained from the start of 2015, with repeated violations of a ceasefire on the much disputed Kashmir Valley's Line of Control. Incidents which led to the deterioration of relations and the cancelation of talks in August between the countries' respective security advisers.
The impact of Shiv Sena's attempts to cause trouble for the much loved Pakistani actors' movies remains to be seen. Mahira Khan's 'Raees' is slated for a 2016 release on Eid, while Fawad Khan's 'Ae Dil Hai Mushkil' is to have a Diwali release in the same year.
Atif Aslam Pune India Concert Cancelled Due To Shiv Sena Threats