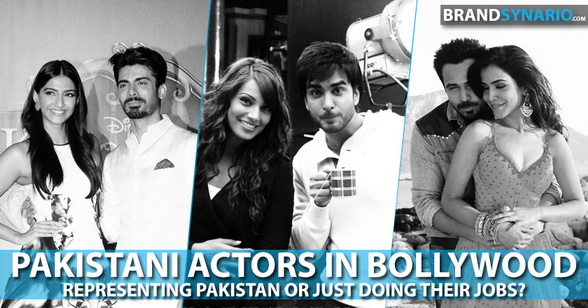 By Zenub Ayaz
68 years of troubled relationship with India has led to many conflicting situations but nevertheless, entertainment fraternities of both the countries have always put in their utmost efforts in blending the boundaries drawn between India and Pakistan. 
Be it musician, singers, actors or models, the number of collaborative projects has increased immensely.
Keeping aside the positive or negative affect for a while, the first step was taken when Mahesh Bhatt signed Meera for Nazar, then Veena Malik took the leap through Bigg Boss, later she starred in a few films too.
Currently this trend is at its peak when three of our Pakistani stars are doing 3 big projects in India.
On one hand we have Fawad Afzal Khan, playing a Royal Prince in Khubsoorat starring against Sonam Kapoor; on the other hand we have Imran Abbas starring in an Indian 3D movie named 'Creature' against Bipasha Basu in the lead role.
And then there is Humaima Malick who has left behind the two boys in all fronts, be it exposing or public appearances or wanna-be efforts to blend in, the lady wants to make sure that she fits right into the B-town circle!
All three movies are now complete and their promotions are at the peak now! 
The stars are engrossed in making various public appearances and attending high profile events to promote their movies.
Out of the three stars that are now in India the two boys are trying their best to maintain their image as Pakistanis, acting in a reserved and graceful manner. But Humaima is a different and opposite story altogether.
Have a look Imran's amazing  off-screen chemistry with Bipasha Basu.
We wish we could say the same about their on-screen chemistry too but unfortunately, desptie some very intimate scenes, Imran's innocent chocoloate-boy looks and Bipasha's seductive killer attitude didn't seem to gel in together in the movie. 
Throughout his stay in India, Imran played it safe by being Bipasha's supporting actor rather than taking the center stage himself. 
Although we are in love with his boy-next-door personality but it would have been great to see him come out of his shell. 
On the other hand, our very own Zaroon from 'Zindagi Gulzar Hai' made sure to act the royal prince he was supposed to. 
From his clothes to his behavior to his candid conventional good old school thoughts, he proved that he can charm ladies without overdoing it.
Even his lead actress in the movie and one of Bollywood's diva, Sonam Kapoor couldn't stop herself from falling in love with Fawad's humble personality and looks that can kill.
Contrary to what the two of Pakistan's leading actors did, Humaima Malick has by far done all she could to make sure that she blends in the crowd; be it exposing, intimate scenes or her over generous public appearances – she isn't leaving any stone unturned. 
Have a look at different attires she took in different public appearances.
Out of the three actors, our vote undoubtedly goes to Fawad Afzal Khan!
With his royal looks, humble attitude and graceful disposition, the man has won hearts not in Pakistan but cross border too!
Who do you think did the best job  of representing Pakistan in India?