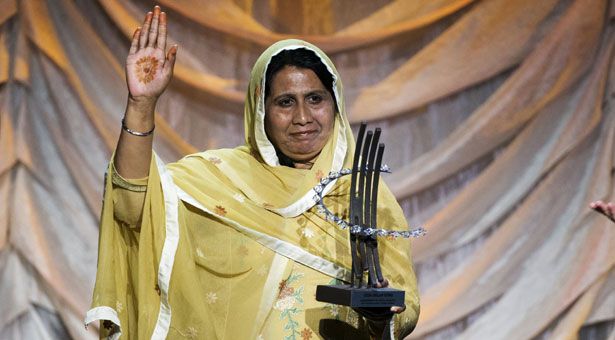 Remember the social worker Syeda Ghulam Fatima and her struggle against bonded labor in Pakistan's brick kilns? While her heroic tale was unveiled by Human of New York's blogger Brandon Stanton, she has been now presented with the Global Citizen Award in New York .
The humanitarian was presented with the Leadership in Civil Society title at the Clinton Global Citizen Award ceremony.  According to a statement from the Clinton Foundation, the human right's activist was rewarded  for the relentless struggle in her cause to crush bonded labor in Pakistan's brick kilns and for consistently campaigning for right labor standards in Pakistan
View here: Humans Of New York in Pakistan- Complete Gallery
The lady rose to fame when HONY's Brandon did a seven series story about Fatima's effort when he visited Pakistan last month. Together, they raised $2.3 million for her organization with aids from people all around the world.
[fb_embed_post href="https://www.facebook.com/humansofnewyork/photos/a.102107073196735.4429.102099916530784/1055548694519230/?type=3/" width="550″/]
The success story of Fatima, the general secretary of the Bonded Labor Liberation Front Pakistan (BLLF) reveals her selfless dedication despite being constantly subjected to atrocities and hardships on her way.
Related: Hadiqa Bashir, The Youngest Recipient of the Muhammad Ali Humanitarian Award
Since 2007, the Clinton Global Citizen Award has been honoring "outstanding individuals who exemplify global citizenship through their vision and leadership".
This time the brave female fighter of our nation, Fatima has proven herself as the true champ of human rights and earned the rightful honor for driving a dynamic social change in Pakistan.