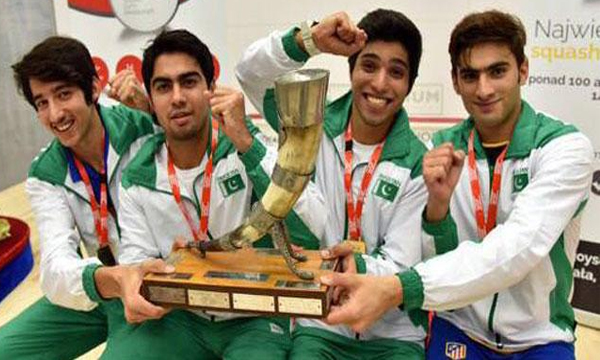 Pakistan beast Eygpt by 2-1 to claim the title of World Junior Squash Championship title. The team won its sixth title after their first win against Poland in 2008.
The win also brought an end to Eygpt's hat-trick run as the last three editions of the championship was claimed by them. Israr Ahmed took on his opponent for 39 minutes 11-9, 11-9, 11-9, to give Pakistan its first lead.
However, Eygpt's Yousef Irahim got the best of Ahsan Ayyaz, who went down for 11/13, 13/11, 5/11, and 6/11. Abbas Shaukat took on Marwan Tarek and won the match for Pakistan at the World Junior Squash Championship with 11/7, 11/9, and 11/8.
senior vice president of Pakistan Squash President, AVM Razi Nawab, gave his hearty congratulations to the boys and said, "
This victory is attributed to the vision of the President PSF, the guidance of our Legends and above all to the dedication and hard work of the players. Inshallah, with the prayers of the entire nation, Pakistan squash would once again achieve its rightful place."
Michael Phelps Breaks 2100-Year-Old Record at Rio Olympics 2016