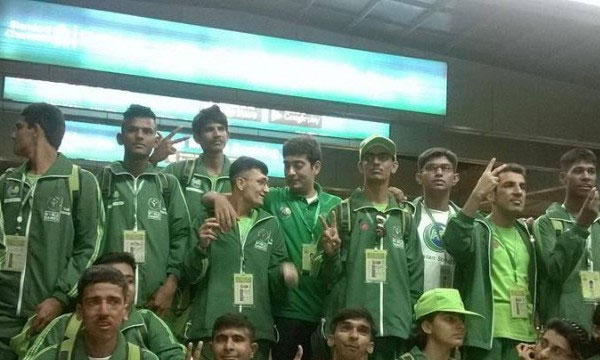 Pakistan's mentally challenged Olympians bring a gift of 67 medals and 7 ribbons home right before 14th August Independence Day celebrations.
With 15 Gold, 12 Silver, 8 Bronze Medals and 7 Ribbons for 4th – 8th place, these special athletes made Pakistan proud in the recent Olympic World Games Los Angeles 2015.
Special Olympics, with President Barack Obama as honorary chair, proved to be the largest sports and event for people with mental disabilities in 2015. The event hosted 6,500 participants from 165 countries, all with less intellect but high hopes contending against each other at Los Angeles.
From Pakistan, a delegation consisting of 55 intellectually disadvantaged but highly motivated and energetic athletes set off with high hopes for Special Olympics Los Angeles 2015 to represent the green flag in the international arena. And before the event reached its conclusion these not-so-gifted Shaheens had already secured 67 medals in 8 disciplines.
Both of our Basketball Teams (unified and non-unified) have Won silver Medals!
Our Unified Boys Basketball Team Won 10 Silver Medals
Our Non-Unified Boys Basketball Team Won 10 Silver Medals
Our Boys Football Team Won a 8 Bronze Medals!
This was the seventh time when mentally and physically challenged athletes from Pakistan participated in the Special Olympics and triumphed. This time Pakistani special athletes competed in 9 different sports out of 25 at the World games including athletics, aquatics, basketball, badminton, cycling, power lifting, tennis and table tennis.
Among gold medalists were winners from cycling, swimming, athletics, badminton and tennis.
Ahsan Anwar and Muhammad Qayyum won 2 golds each in Tennis. Touseeful Hassan was prominent with 2 golds in 10-Kilometers and 5-Kilometers Road Race and Uzma Yousuf with 2 golds in Time Trial cycling events, with Sumbal Yousaf and Salman Siddiqui to secure 1 golden each in similar Time Trial cycling races. Ramail Irshad clinched 1 gold in athletics.
Umme Salma Tayyab was outstanding in mixed doubles and singles and secured 6 gold medals whereas Jahanzaib Iqbal bagged 4 gold medals in different events of badminton. Asim Zar and Aqsa Ahmed Janjua outshined in 100-meters freestyle and 50-meters backstroke swimming with 1 golden each.
Apart from these many other contenders from Pakistan were also able to bring home the bacon in form of silver and bronze medals as well as 4th-8th rank ribbons.