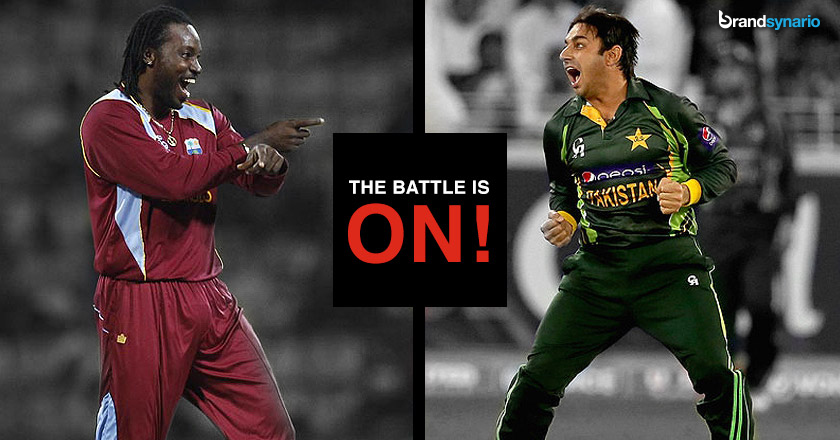 By Hassan Wasti
The ongoing T20 world cup have witnessed the fall of Australia, England and New Zealand while the Asian teams climb their way to the top to battle it out for the championship.  With India and Sri Lanka already in the Semis,Pakistan is set to fight it out with West Indies today in a do or die match.
The fans wait anxiously as both these teams carry an element of surprise and unpredictability on the field which makes them an equal match, Pakistan is in tremendous form after beating the Aussies similarly the West Indiesis also high on confidence after crushing Australia and securing the second spot on the points table.
Today we will look at the strengths of both teams which have become the defining factors for the two and has accounted for countless victories for these two teams in the past.
Chris Gayle Vs Shahid Afridi
Now this is interesting, Chris Gayle is every bowler's nightmare once he gets his bat running same goes for Afridibut the big question is who has done it more times than the other.
To start off Afridi has been a match winner on any given day with ground breaking records of hitting a 50 of just 37 balls in this format Afridi has proved himself a deadly mixture of skill and raw power.
On the other hand Chris Gayle's accurate hitting and flawless execution of shots have made him a force to be reckoned with, he hasn't fired of yet in this T20 world cup but is very much confident about producing a match winning innings.
Afridi has a slight edge over Gayle with his bowling ability which allows him to help his team get wickets. Gayle does bowl but is not always the first choice. However he has often provided his team with the breakthroughs by taking crucial wickets.
Sunil Narine Vs Saeed Ajmal
Spinners today have become the match winners in cricket today. Both Narine and Ajmal have tormented the batsmen throughout the tournament, both spinners are at their peak and many world renowned batsmen think twice before taking them on.
To start off let's look at Saeed Ajmal, with 85 wickets in T20 and an average of just 17.05 in 62 matches Ajmal has proved his worth in the Pakistani side and has earned the respect from his opponents. Ajmal also known as the 'Jadugar' (magician) has mastered the 'doosra' which became an unplayable delivery for the West Indies batsmen back in 2011 where he took 11 wickets.
As for Narine, he has played in 27 international T20's with 33 wickets and an average of 17.93 which is slightly higher than that of Ajmal. Narine pose a threat to our batsmen as he can spin the ball in an uncanny fashion which has left many batsmen thinking on how to play him. He delivers the carom ball with perfection which often ends up knocking down the stumps.
Ahmed Shahzad Vs Dwayne Smith
One cannot ignore either of these fine players Ahmad Shahzad is in his prime form whereas Smith has the talent and the shots to upset the bowling figures of the opposing team in any format.
Ahmed Shahzad has come off as a fresh talent for Pakistan and has provided the team with a strong opening stance which has been missing for a long time now. Shahzad scored his first 100 in a T20 international and went on to become the only Pakistani player with a century in this format, with a strike rate of 122.65 and a batting average of 28.95 in this format Shahzad is high on confidence as Pakistan gets ready to face West Indies.
Dwayne Smith like Shahzad is a young talent who likes to play flamboyant shots and tries to bring in a mixture of skill and innovation in his game play. A strike rate of 128.02 and an average of 19.92 Smith may prove a competition for the Pakistani bowlers once he gets going.
Both Shahzad and Smith are athletic in the field and have taken some outstanding catches in crucial stages of the game. The faceoff between the two will be worth watching.
Mohammad Hafeez vs. Darren Sammy
Finally we will look at the two individuals that will lead their sides in the game and will plan out their strategy. Hafeez also known as 'The Professor' has proved himself to be calm and collected captain one who sticks to his plan without panicking, he contributes to with the bat and the ball which makes him a deadly combination for the opposing team.
A strike rate of 117.01 and the average of 24.73 Hafeez has often led Pakistan to victory by playing match winning knocks, his bowling figures show an impressive 44 wickets in 57 matches with the economy rate of just 6.58. Hafeez is no doubt one of the best all rounder's in this format of the game.
Darren Sammy also paints a similar picture with a strike rate of 144.67 and an average of 15.59 he has the ability to finish the match and chase big totals. Like Hafeez, Sammy also contributes with the ball he has taken a total of40 wickets in 50 T20 internationals with an economy of 7.01, he has the right attitude which has allowed West Indies to take on big teams is such tournaments and he was the man behind West Indies win in the last T20 World Cup.
Comments
"The team that plays spinners well will win the match. We know that it is a match where we can't make a mistake."- Mohammad Hafeez
"It is very difficult to predict how the teams will play but I know it will be a nail-biting game. Come that game, we will be aware of what exactly we need to do. We need to play well to get out of this group of death and look forward to playing in the semi-final." West Indies all-rounder Dwayne Bravo
THE BIG QUESTION
We all know that both these teams are highly unpredictable and these stats and figures don't mean anything, what matters is which team gets a better control over its nerves in such a crucial match.
The reports from Mirpur is that the pitch will remain dry and the dew factor will not come into play, so all that is left is to see which team brings out it's a game to the pitch today.
What do you think, who will triumph in this clash of the two most entertaining teams in the cricketing world?