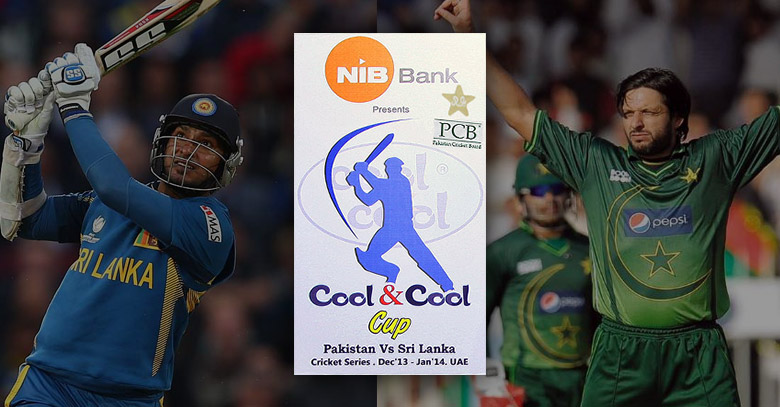 The ongoing series between Pakistan and Sri Lanka has kicked off with a heated T20 International, won by Pakistan last night. Cricketing events especially involving Pakistan usually exhibit higher TRPs and viewership's than other spot on television.
The name sponsor of the series is 'Cool & Cool' and the Presenting Sponsor is NIB Bank Ltd while Haier and Zong are co-sponsoring the match series.
Previously the unveiling event of the official Logo of the cricket series between Pakistan and Sri Lanka was held in Gaddafi Stadium, Lahore.  The event was attended by the officials and sponsors including; DCO International PCB Mr. Intikhab Alam, Mr. Farhan Sangani, Director Operations COOL & COOL, Mr. Ali Habib Head of Marketing & Corporate Affairs, NIB Bank Ltd.
The Series, hosted by Pakistan in the United Arab Emirates, began from 11th December this year and will conclude after completing its toll of two T20 internationals, five One Day Internationals and three Test matches on 20th January 2014.
"This is a huge opportunity for NIB Bank as Cricket is Pakistan's most popular sport. The upcoming series has tremendous appeal for millions of fans of Pakistan Cricket. Our sponsorship allows us to support the game of Cricket in Pakistan and reflects our commitment to sports and country".
Mr. Ali Habib, Head of Marketing & Corporate Affairs, NIB Bank Ltd.
Cool & Cool has been in long term commitments with Cricket and PCB, since this is not the first Cricket Series they have title sponsored.
Mr. Barkat Ullah, Regional Manager S&D Zong also remarked:
"China Mobile Pakistan is committed towards the promotion of sports and will support PCB & Cricket in future also".