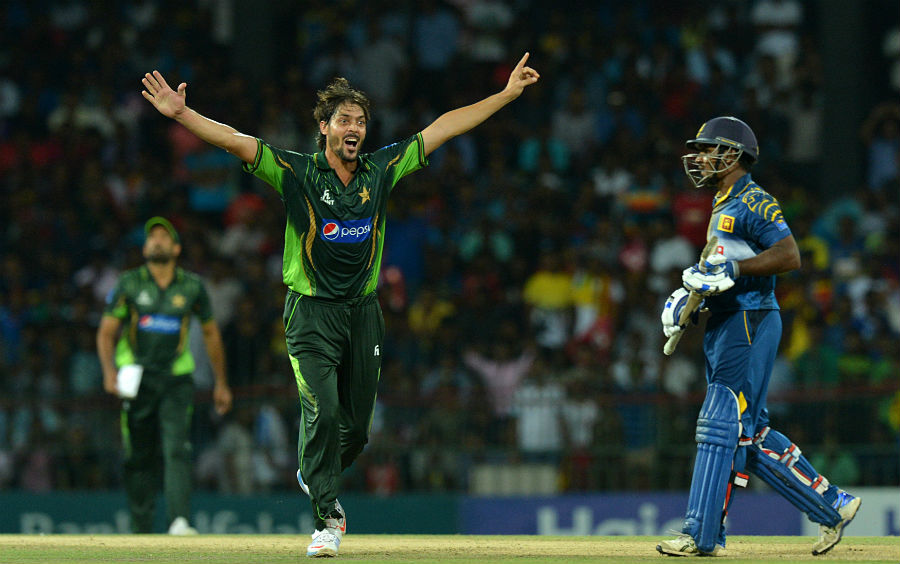 The Pakistani Shaheens are up again in 2nd T20 match against Sri Lankan Lions. The two teams will face each other in Colombo after Pakistan beat Srilanka in a thrilling match 2 days ago played in the same arena. With Lasith Malinga winning the toss for Srilanka, the lions have decided to bat first.
Sri Lanka is taking chances with Shehan Jayasuriya and Dasun Shanaka as they make their first international appearance, replacing Angelo Mathews and Kithuruwan Vithanage with Angelo Mathews to miss first match of his T20 career with a consecutive 55 match streak. Afridi on the other hand will go with the same team he played with in the previous match.
TM Dilshan and MDKJ Perera open for Srilanka with Anwar Ali to take up the first ball. Early 3rd over wicket of Dilshan certainly put the visitors in confidence. Srilankan batsmen desperately tried to hold their grounds in an effort to uplift the target for following contenders but one by one each was directed to pavilion by fiery Paki bowlers.
Finally Jayasuriya was able to break the jinx scoring 40, later caught out by Imad Wasim on short-length delivery by Sohail Tanvir. Afterwhich CK Kapugedera took over to paddle his own canoe. Not-out at 48 (just 2 runs short of fifty) he was able to carry Srilanka to 172 at the end of 20th over.
From Pakistani side, Shoaib Malik was prominent with 2 wickets just off 16 run in 3 overs. Whereas Anwar Ali, Sohail Tanvir, Muhammad Irfan and Boom Boom Afridi were successful to take one wicket,bowling 4 overs each.
Pakistani Boys will now take over the pitch in an attempt to conquer foreign grounds in T20 International for the second time in the series.
172 is not an easy target, especially with an unseemly chasing history of the "Shaheens". Pakistan puts Mukhtar Ahmed and Ahmed Shehzad first to face Srilankan vengeance-filled bowlers. The Srilankan bowlers go all ballistic taking Pakistani batsmen down one by one. Mukhtar at 4, Shehzad at 7, Hafeez at 11, Malik at 8 and Akmal at 4, starting 5 wickets went down like water in a stream for Pakistani team in just 8 overs leaving the heavy burden on Boom Boom's shoulder once again. And with Afridi anything is possible! (Fingers crossed).
The flourishing partnership between Afridi and Rizwan turned the game around for the Pakistani side but unfortunate dismissal of Muhammad Rizwan by Perera at 101 runs followed by rapid fall-of-wicket of Shahid Afridi again shook their shoes off. But then came out pouring boundaries, Imad Wasim and Anwar Ali paired up with full aggression. Flying sixes, powerful fours raised Pakistan's score and fans' hopes. The two broke the previous 8th wicket partnership with smashing hits. Anwar Ali, relentless in his batting, was able to score score 46 in 17 balls only with three 4s and four 6s, brilliant indeed. The match was at full climax, especially when Soahil Tanvir lost his wicket in a desperate attempt to run a second with now only 1 wicket in hand and 6 required off 6 balls. A sensible one run by Irfan put Imad to face the bowler who ended Srilankan's hope with a remarkable sixer.