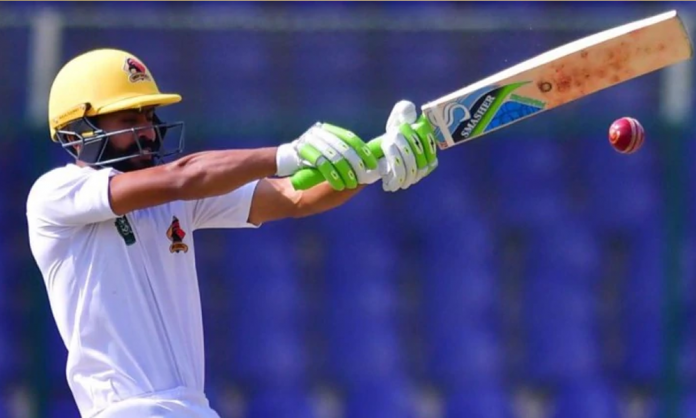 127 views
Fawad Alam benched after the surprise inclusion in the Pakistan vs. Srilanka test series squad. Fawad made the cut to test series after 10 years.
The fans were excited to see Fawad play after a gap of a decade but unfortunately, the Karachi based player was benched on the first day of the 3-day test match and Haris Sohail was included in the team.
This sudden dropping of a star player who performed 1200+ runs with 30+ centuries in his overall career till today. Fawad was replaced by Haris Sohail.
After the opening of today's test match friends were fuming about the benching of Fawad and they started venting their disappointment on Twitter.
This one is seriously disappointed!
You need to be useless like Shan Masood to be in. Your 12000+ runs with 30+ centuries don't matter.
We're really sorry Fawad Alam 💔#PAKvsSL

— Osama🇵🇰 (@OsamaBashir99) December 11, 2019
The question is valid
If you didn't wanted to play Fawad Alam when he is in terrific form then what's the point of selecting him ? The never ending bias continues @captainmisbahpk @TheRealPCB @siasatpk @wasimakramlive @iramizraja

— A Siddiqui (@azamsiddiquii) December 11, 2019
He has reservation about chief selector/chief coach Mishbah
According to some sources Head Coach Misbah is not happy with the decision of Chief Selector Misbah to select Fawad Alam, so the Head Coach Misbah in consultation with Batting Coach Misbah has decided to bench Fawad Alam for First Test match at Pindi.#PAKvsSL#CricketComesHome

— Moeen (@Abdulmoiz2403) December 11, 2019
Let the stats talk!
So #FawadAlam loses again. Nothing against Haris but his no. in Aust
Ist T20 4 (6) 2nd T20 6 (9) 3rd T20 8 (16)
●Ist Test
Ist Innings 1 run 2nd innings 8 runs were poor and he's still playing in place of Fawad Alam (first class avg this season 71) Well done Misbah👏#PAKvsSL

— Raham23 (@WittyWag) December 11, 2019
She has literally lost all hopes for Cricket in Pakistan
It was a big day for cricket in Pakistan. Till they decided to leave out Fawad Alam. #PAKvSL

— Manya (@CSKian716) December 11, 2019
And his predictions were on Point
So what happened to Fawad Alam, I told you he will be not in the playing X1

— najaf butt (@najafbutt) December 11, 2019
Even Indian fans are not happy about this decision
I have a question, why there is no spinner, why there is 4 pacers, why fawad alam not playing, why haris sohail playing

Pakistan need to earn 120 points. #PAKvsSL

— deepali Seth 🇮🇳 (@Aashi2684) December 11, 2019
Well he has broken down the conspiracy
Somebody higher up at PCB really really hates Fawad Alam, no other explanation.

— Osama. (@ashaqeens) December 11, 2019
He is sad really sad!
#PAKvsSL
*Fawad Alam not in playing 11*

Me right now: pic.twitter.com/uwUnLUbpuS

— Hello ALI (@dorru12) December 11, 2019
This is a true depiction of all the cricket fans at the moment
All of Pakistan when Misbah uses Haris Sohail instead of Fawad Alam.#PAKvsSL pic.twitter.com/dRUGvu9tl7

— Sahil Mufti (@muftipks) December 10, 2019
We love Fawad too!
Misbah to Fawad Alam:

"I LOVE YOU but as a FRIEND"#PAKvSL pic.twitter.com/6LWAAyJNUk

— دانیال👑 (@dani_yal_18) December 11, 2019
As per the cricket experts, there are now bleak chances for Pakistan to win the first test match of the series as the squad has no spinner and a good batting line. Let's hope the players give their best as the nation is disappointed after a below-average performance by the team on Australia's tour.
Do you think Haris is a better choice than Fawab? Tell your views in the comments below.
Stay tuned to Brandsynario to know all the latest updates.