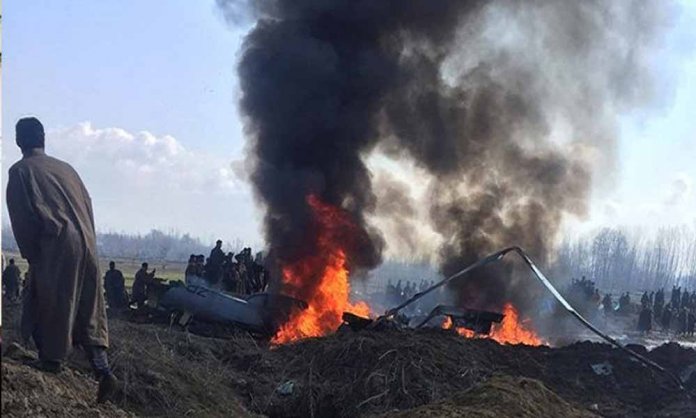 Two Indian Force fighter jets were shot down by Pakistan this morning for violating airspace.
One Indian pilot was arrested by Pakistani troops on ground while two in the area.
Sources reveal that one of the jets fell in Azad Jammu and Kashmir. The second one fell in Indian occupied Kashmir, say the sources.
You need to check out Pakistan army and the citizens' jubilant celebrations after arresting the Indian pilot.
THE CELEBRATIONS when Pak Air Force shot down 2 Indian fighter planes today pic.twitter.com/YkVwYVXDAI

— Khalid khi (@khalid_pk) February 27, 2019
The director general (DG) of Inter-Services Public Relations (ISPR), Maj Gen Asif Ghafoor confirmed the retaliation in a tweet.
In response to PAF strikes this morning as released by MoFA, IAF crossed LOC. PAF shot down two Indian aircrafts inside Pakistani airspace. One of the aircraft fell inside AJ&K while other fell inside IOK. One Indian pilot arrested by troops on ground while two in the area.

— Maj Gen Asif Ghafoor (@OfficialDGISPR) February 27, 2019
Footages from the incident also surfaced online.
WATCH: Indian plane going down in flames after it was downed by Pakistan in alleged 1st footage

DETAILS: https://t.co/vv9QfKAiqIpic.twitter.com/Jio2Cmdhs9

— RT (@RT_com) February 27, 2019
Picture and video of the arrested Indian pilot have also been revealed on the web.
In his latest statement, Abhi Nandan has revealed that he is being treated well by the Pakistani army.
https://twitter.com/iiyoivangala/status/1100736586021359618
Below is the statement earlier released by Indian Air Force's Squadron Leader Abhi Nandan Vardaman's Statement, caught by Pakistan army.
Arrested Indian Pilot. 3 Indian pilots are in Pakistan custody. pic.twitter.com/mL3Ec5vgAu

— Siasat.pk (@siasatpk) February 27, 2019
This is what he stated about himself:

My name is Wing Commander Abhinander

My Service Number is 27981

I'm a flying pilot

My religion is Hindu

Sorry, Sir. That's all I'm supposed to tell you.
Maps and weapons have also been recovered from Indian Pilot Wing Commander.
پاکستان فضائیہ کا بھارت کو منہ توڑ جواب ، دیکھئے پاکستان کی حدود کی خلاف ورزی پر تباہ بھارتی جنگی جہاز اور پاک فضائیہ کے ہاتھوں گرفتار ہونیوالے بھارتی پائلٹ کے نقشے اور اسلحہ#PakistanArmyZindabad #PakistanStrikesBack #PakistanAirForce #PakistanArmy #IndianAirForce #India pic.twitter.com/7NOzNcLqLv

— Siasat.pk (@siasatpk) February 27, 2019
The only lucky Indian to have breakfast in Lahore 😂😂#PakistanStrikesBack #PakistanArmyZindabad pic.twitter.com/2820xzatqU

— Bhandari Munda (@BhandariMunda) February 27, 2019
Yesterday, Indian Jets entered Pakistan-controlled side of Kashmir on Tuesday at 3:30 am in the morning.
However, the Pakistan Air Force (PAF) successfully responded and thwarted the incursion into the airspace.
Following the violation, Prime Minister Imran Khan had summoned an emergency, high-level meeting to discuss the situation.
The forum decided that Pakistan will respond to India with its preferred time and place of choice.
This is a developing story.
Stay tuned to Brandsynario for more updates.