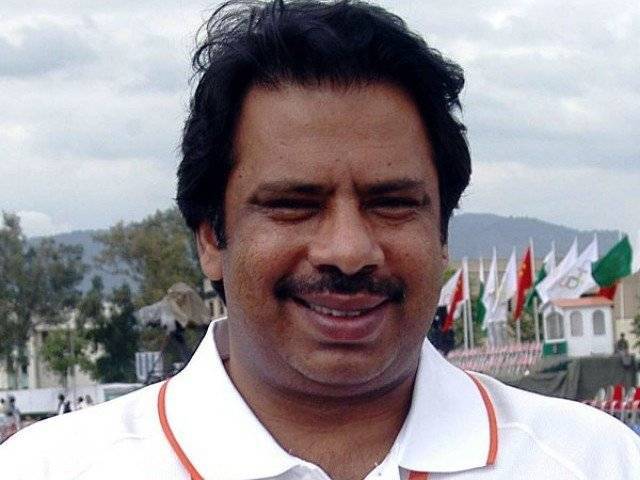 A new era could emerge at this year's British Open, predicts legendary Pakistan squash player Jahangir Khan, who won the world's oldest tournament a record ten times.
Jahangir believes the new wave of players could break through at the tournament in the Airco Arena starting Monday.
"There were a lot of upsets in the World Open last year (in November) and we weren't expecting them," said 52-year-old Jahangir.
"I think a new era is quite near. There could be a lot of upsets at the British Open too."
Jahangir identified three Egyptians as possible challengers — Ali Farag, a 23-year-old Harvard graduate, Karim Gawad, 24, and Omar Mosaad, a steadily improving 28-year-old.
Farag beat three top ten players on the way to the Detroit title in January, Gawad rose to a career-high world number seven after capturing the Swedish Open the following month, and Mosaad is at world number four after reaching the World Open final.
"They are good talents coming up," Jahangir said. "They all know what the guys at the top of the rankings have to struggle with. And they are younger than the others and hungrier."
A spectacular exception to this is Gregory Gaultier, the Frenchman who has become world champion for the first time at the age of 32, belatedly achieving what many thought was past him.
Gaultier expects to return to competition next week after nine weeks out with a ruptured ankle, as he bids for a third British Open title.
Whether Gaultier achieves this may depend on how well he understands his body and mind after such an absence, and perhaps also on how well Mohamed El Shorbagy, his conqueror in five games in last year's final, handles the pressure of a title defence.
"El Shorbagy's still quite young even though he's been around for a few years so he may have more hunger than the others as well," Jahangir said of the 25-year-old Egyptian.
Successfully defending the Tournament of Champions title in New York in January should have aided El Shorbagy's self-belief, though he needed another five games in a hard final with Nick Matthew. This may quieten those who claim the Englishman is too old to win a fourth British Open at 35.
If Matthew does this he will have achieved a notable record. He is 18 months older than the Australian Geoff Hunt when he became the oldest British Open champion of the professional era in 1981.
Another attempting to return from injury is Ramy Ashour, perhaps the sport's most popular player and its most talented.
Three years ago he became the first Egyptian in almost 50 years to win, but he has been unable to compete for four months because of a chronically troublesome hamstring.
That is only one in a catalog of ailments which have threatened Ashour's stop-start career, but if he is fit enough he is more than good enough to win again.
David eyes sixth title
Meanwhile, Malaysian Nicol David, 32, is seeded number two as she bids to capture the title for a sixth time.
Although David lasted a record 103 months as world number one she only captured one title last year, and now Laura Massaro, a fellow 32-year-old from England is the top seed.
These two could face significant challenges from at least three other players –- Camille Serme, the titleholder from France, Raneem El Welily, the Egyptian who succeeded David as number one last year, and her compatriot Nour El Sherbini, a 20-year-old who has beaten both David and Massaro this year.
Seeds
Men
Mohamed Elshorbagy (EGY x1), Gregory Gaultier (FRA x2), Nick Matthew (ENG x3), Omar Mosaad (EGY x4), Ramy Ashour (EGY x5), Miguel Angel Rodriguez (COL x6), Simon Roesner (GER x7), Mathieu Castagnet (FRA x8)
Women
Laura Massaro (ENG x1), Nicol David (MAS x2), Raneem El Welily (EGY x3), Nour El Sherbini (EGY x4), Camille Serme (FRA x5), Omneya Abdel Kawy (EGY x6), Amanda Sobhy (USA x7), Nouran Gohar (EGY x8)