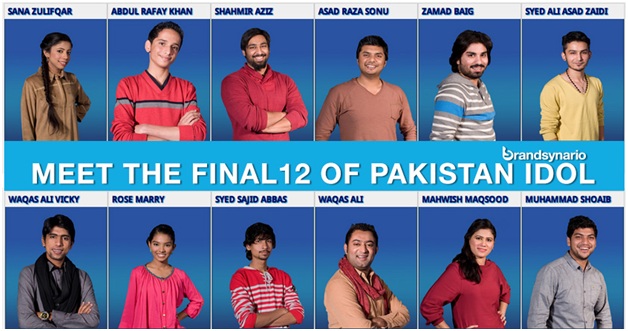 Pakistan Idol's episode seventeen opened on the season's Wild Card round, providing a second chance to eight of the rejected contestants to prove their singing abilities to the nation and be a part of the Top 13.
An extravaganza of fiery and remarkable performances was in the air, presented by the contestants who were not fortunate enough to make it to the Idol's Gala round.
The eliminated group of eight singers, selected by the judges, consisted of Fiza Javed Abbasi, Waqar Ahsan, Midhat Hidayat, Kashif Ali, Muhammad Zeeshan Ali, Ali Rizwan, Seemab Arshad and Ghazal Ali.  
All of them were provided with a golden opportunity to seize their only chance to win their way ahead in Pakistan Idol, leaving their fate in the hands of the audience.
The Wild Card Round kicked started with Waqar Ahsan's performance on the song "Lagan Lagi". But bad luck couldn't escape him for he apparently didn't give his best nor was able to impress the judges.
Ghazal Ali, Ali Rizwan and Mohammed Zeeshan chose quite difficult tunes for themselves. Nonetheless, their performances were satisfactory, scraping good remarks from the jury.
Following these three pleasant performance, was Fizza Javed who sang Sunidhi Chauhan's "Sajana Vey Sajana". Perhaps, she was the weakest performer of the day and failed to stir a good response from both, Hadiqa Kiyani and Ali Azmat.
However, the sixth contestant for the Wild Card round "Midhat Hidayat" certainly grabbed the support of the judge panel for her power-packed song routine on Taal's "Ni Mai Samajh Gai".
Despite suffering from a sore throat, Seemab Arshad gave an absolutely flawless delivery on a very complicated tune "Sanwal Moar Mohaala". But the day ended with a brilliant performance by "Kashif Ali" on "Saiyaan" and received a standing ovation form Bushra, Hadiqa and Ali Azmat.
Amongst all, Midhat, Seemab and Kashif were the lucky singers of the day. However, the final word will be decided by the audience alone. The contestant with the most votes will move ahead to the Gala round and be the blessed entrant in Top 13 singers.
The destiny of the eliminated eight will be revealed on Sunday's episode of Pakistan Idol, giving ample time to the nation to cast their votes for the favorite singer.
So, who are you voting for? Share with us in the comments below.