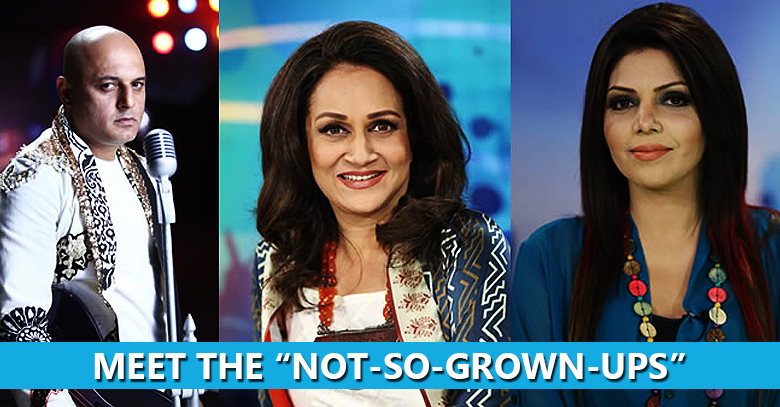 Pakistan Idol touched a whole 'new low' on December 13, 2013 – when the Judges Ali Azmat and Bushra Ansari embarrassed themselves – while trying to humiliate a contestant on something so God-given as his 'voice'.
Before we advance any further it's better if we watch the incident in discussion here:
[iframe id="http://tune.pk/player/embed_player.php?vid=1518211&folder=2013/12/21/&width=650&height=350&autoplay="]
What, in the name of 'Bald-headed-pointless-comedy', was that? That was NOT funny, not even close. If anything that was fairly offensive, watching gives a repulsive rush of blood to any man with even half dead morals.
As for those who think the contestants in these auditions are paid actors and the controversies are means to promotion, well, they maybe right. But even if they are actors, and the auditions plotted – the people watching at home are neither actors nor that manipulative; "It would be very unpleasant to be a man with a similar voice watching this monstrosity from home."
Did Naveed Ali say anything offensive? Was he ill-mannered, offensive or aggressive? What kind of example are we setting here? The show is called 'Pakistan' Idol – if you are using that name make sure to be grown up enough to respect a Pakistani.
In fact it appears that there are more people with morals than we imagined. 'Change.org', a renowned social awareness website that hosts hundreds of millions of petitions all across the world, is now hosting another petition by Taimur Rehman.
As mentioned in the petition, the purpose of the petition is that the judges and stakes holders of the show 'Pakistan Idol' issue a public apology to the audience and specially the contestant, Naveed Khan, whose confidence was crushed, all in the name of futile 'Entertainment'.
"The petition isn't only about a man. It's about an 'idea', Ali Azmat and Bushra Ansari did not just make fun of Naveed – they made fun of every single person a God-given shortcoming. That is a sensitive matter. National Television is a podium that grants immense power with equal responsibilities."
We understand that reality shows feed on controversies, dramas and mostly pitiful performances, backed with an intense background score. But if we are going to go down the road of humiliating Pakistanis on Paksitan Idol, on something which is wrong on so many platforms than people are bound to get offended.