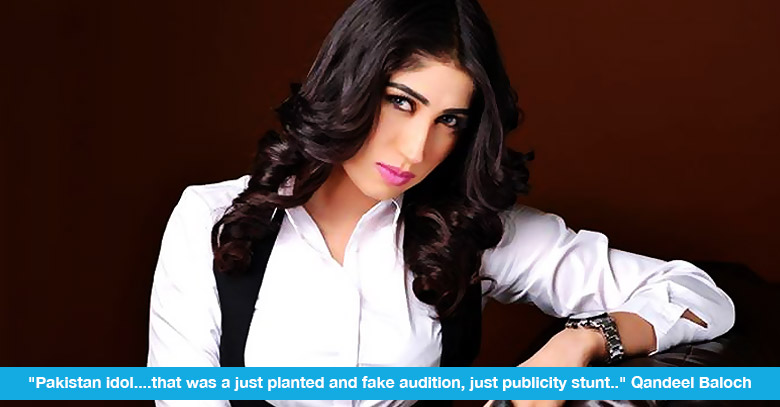 Pakistan Idol seems to be attracting all kinds of attention, even the ones uncalled for. Recently the reality show became the talk of the town when TIPS India and SA RE GA MA filed legal notices against British company FreeMantle Enterprise and Pakistan Idol, on infringement of its copyrighted content.
The dust barely settled , when another controversy is queing up. If you remember the recently aired Lahore auditions, you would definitely remember "Qandeel Baloch" a.k.a 'Pinky', courtesy Bushra Ansari.
It wasn't the audition that made controversy; it's what has transpired after. Qandeel stated in a shocking revelation on her own facebook account, saying – "Pakistan idol….lol:) that was a just planted and fake audition, just publicity stunt..what I did there was my acting, hope u people can understand k aisay baray shows hamesha planted game hoti hai….".
In a nutshell, the audition that seemed to be merely a futile attempt of a newbie to gain publicity over night, has become a controversial disclosure, that puts at stake not only the credibility of the show itself but also questions the amount of 'reality' in the reality show, overall.
Qandeel's audition was a collage of bad singing; exchange of embarrassing dialogues engulfed in the trademark 'Idol' comedy, decorated with disturbingly excessive acting and lastly, tears – a lot of them. It is not unusual for people to watch, a show like Pakistan Idol,  used as a launching pad for all sorts of strugglers.
The allegations from 'pinky' could have been treated as another attempt to gain popularity, if she had not also starred in some of GEO's earlier shows. That is correct; a quick background check confirms the model turned actor's appearance on GEO's "The Shareef Show", thus giving more proof of her claims to be 'employed as an actor by GEO, to "act" in its apparently-not-so-real reality show Pakistan Idol'.
Qandeel has also appeared on many other television channels like; PTV Home, Abb Takk and a few shows on other networks. Point being – Qandeel is in fact a struggling actress.
If Qandeel's performance was plotted, as she has mentioned, does that mean that all auditions were too? Or more understandably were auditions like Qandeel's, strategized to provide comic relief to the show?
If Qandeel was in fact acting, employed to embarrass herself on national television, it would also imply that GEO and FreeMantle must have also compensated her.
If GEO can hire a struggling model and actor to participate in one of its ace-reality shows only to spice up its viewership, how could the eventual result of that ace-reality show be ever considered undisputed?
The credibility of GEO and FreeMantle both are in serious consideration after this exposé from Qandeel Baloch. 
Do you think Pakistan Idol auditions are fake and planted?