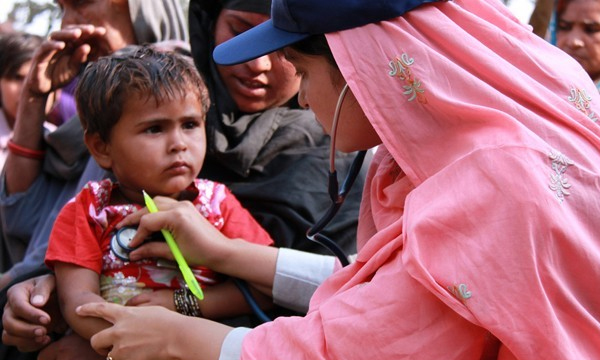 Pakistan has managed to achieve only one out of five World Health Assembly nutrition targets as per the latest Global Nutrition report, releasing on 22nd September in New York.
According to the report, Kenya was the only country to have met all five targets, followed by Colombia, Ghana, Vanuatu and Vietnam, fulfilling four out of five objectives.
Read more: Pakistan to Have 300Mn+ Population By 2050: UN Report
The report is intended to encourage leaders of all countries to take proactive actions to end malnutrition, by emphasizing on how nutrition can either be "a driver of change or a barrier to progress".
The report further reveals how one in every three people is malnourished across the world and in spite of awareness, the lack of skills, money and political pressure prevents high impact interventions to take place.
According to think-tank International Food Policy Research Institute (IFPRI) researcher and lead author of the said report, Lawrence Haddad, even only one malnourished person in every three people can impede growth for the community and economy on the whole.
Read more: Karachi Rated as the Fifth Most Polluted City in the World
Yet another author of the report, Dr Zulfiqar Bhutta, founding director of the Centre for Excellence in Women and Child Health at Agha Khan University, believes the scenario is worse for Pakistan because of the added issues of "persistent maternal and childhood under-nutrition and growing obesity". According to the analysis, only 43% – 48% Pakistani children under the age of 5 are growing healthy.
The report further explains how climate change affects the unfortunate malnutrition situation adversely by limiting food availability and increasing disease occurrences, in countries like India, thereby affecting the children's survival and growth rate.
Read more: Regular Intake of Soft Drinks Causes Cancer: Research Confirms
With UN members convening for Sustainable Development Goals later during the month, the report helps highlight the impending critical need for addressing malnutrition to be able to achieve proposed sustainable development goals.