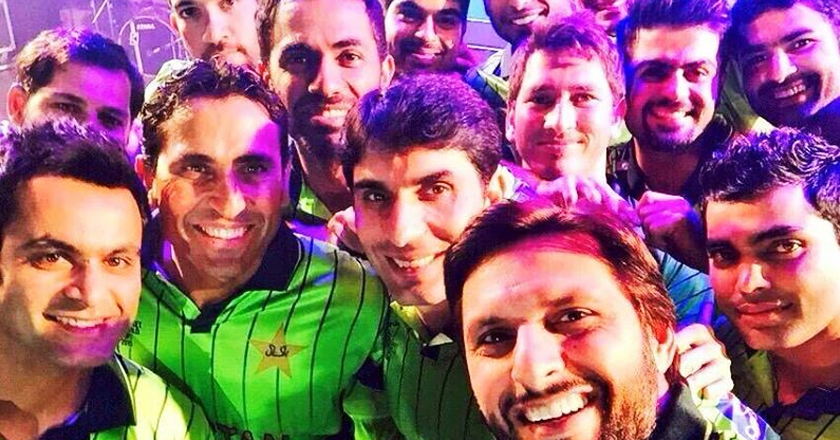 The Pakistan Cricket Team revealed its ICC World Cup 2015 Kit in the Gala Ceremony held at Royal Palm Club, Lahore on 14th January 2015.
The World Cup kit was unveiled with an encourgaging song, beaming lights and confetti which were showered on the cricket team as they stepped on the stage wearing the kit for the first time.
The World Cup Cricket kit has a light green colored base with front covered with horizontal lines which is met by  Pakistan written in golden color and outlined by the black color. The PCB logo is placed on the  left upper side and the ICC Cricket World Cup Logo is placed on the right upper side. The official sponsor, Pepsi's logo is placed on the left sleeve of the cricket kit. 
The 15-man-squad of the Pakistan's cricket team was announced on 7th January 2015 which named Misbah-ul-Haq the captain of the cricket team.  The squad has two openers, four middle order batsmen, five pace bowlers, one spinner, two all-rounders and a wicket-keeper/batsman.
The India's ICC World Cup 2015 kit was revealed yesterday on Twitter and the  Indian cricket team was spotted wearing their World Cup kit for the first time in Melbourne, Australia today. The Indian Cricket Team's Word Cup kit is light blue in color with a prominent logo of 'Star' and 'Nike' on the front and India written in red. The kit is also claimed to be environment friendly and the  rate is 33 recycled  plastic bottle per shirt and trouser, as stated by  Ravichandran Ashwin, Indian spinner. 
The World Cup 2015 will commence on 14th February 2015 and will be jointly hosted by Australia and New Zealand.
The Pakistan will kick start the series with a match against its long time cricket rival and defending champions, India. This will be the fourth match of the series and will be held on 15th February at Adelaide Oval, South Australia.
Are you excited?