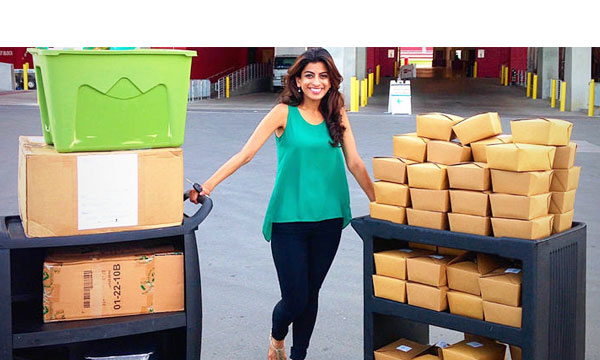 USA, in spite of having an abundance of food supply, hosts a major hunger problem with one out of six Americans scouring streets for their next decent meal. What's worse is that around 40% of the food produced in America, as quoted by CNET, is thrown away as leftovers or excess every single day, while thousands go hungry every night.
Realizing the two problems of food wastage and hunger as solutions for each other, Pakistani born Komal Ahmad decided to take charge for what she claims to be "literally the world's dumbest problem".
Read more: Taking from the Rich, Feeding the Poor: The Robin Hood Army
As a student, Ahmad worked to create programs that allowed college dining halls to donate excess food to food banks and homeless shelters. Her simple idea starting from the dining halls of University of California Berkeley spread to over 140 colleges in three short years.
A graduate in 2013, Komal Ahmad has launched her own nonprofit service, Feeding Forward. Assuming the position of CEO in the organization, Komal took up a team of 8 workers and has recently developed a smartphone app of the same name.
Read more: Pakistani Talent Gets Recognized at Asia 21 Young Leaders' Class of 2015
Feeding Forward, available for both Android and iPhones, works in real-time providing a channel to connect organizations and individuals with excess edible food to food banks and nearby shelters.
This works greatly for event planners and companies with huge amounts of food to expend and no way of doing so. All a donor needs to do is to launch the app in their smart devices, input details of their donation and the deed is done.
The app redirects the donation details to a network of drivers who immediately leave to pick up the leftover food and drop it off to nearby homeless shelters.
The new version of the app will be debuting in August 2015.
Read more: Pakistani Lady Doctor Saida Rasul Wins International Award
With Feeding Forward app, not only does Komal fights the problem of food wastage and hunger but also prevents global warming to a major extent. According to US Environmental Protection Agency, 18% of the landfills and up to 30 million tons of dumps each year are comprised of leftover food. The organic matter in these leftovers, when deprived of an oxygen supply, produces methane gas and contributes to global warming.
Since 2013, Feeding Forward has proudly collected 691,896 pounds of food and distributed it to around 600,000 people. Feeding Forward currently only serves in San Francisco Bay Area, but Komal promises to go global once she has ironed out all glitches in the Bay Area.