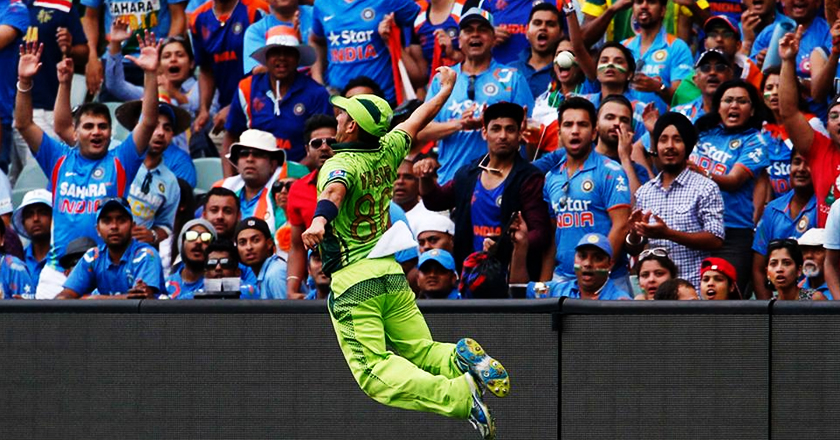 15th February, 2015 – The day we were all so eagerly waiting for is here, when our Green Shaheens play the Blue Men from across the border in arguably the biggest match cricket has to offer. The only sold-out match of the tournament thus far, and being played at the legendary Adelaide Oval, the tickets for this match were booked and bought within a few hours after they were made available.
For Pakistan, this is a must-win match, not because their hopes of qualifying to the knockout rounds depends on it, but because the entire nation wants them to end their unwanted streak of successive losses against the Indians, who have rubbed salt in the wounds of the entire Pakistani nation with their humorous pre-match TV commercial, reminding us that the Pakistanis have yet to beat India in a World Cup encounter, having lost all five matches prior to today's game. However, this is the first time the Indians are without their legendary batsman, Sachin Tendulkar, against Pakistan, who was given Man-of-the-match awards in three of those five matches, but considering the array of talent the Indians possess in their batting ranks, it might not make much of a difference to their chances today.
The sun is shining upon Adelaide, with the temperature hovering around 35°C. The Pool B match starts at 8.30 AM, Pakistan Time, and can be watched on PTV Sports, Ten Sports, and Ten Cricket.
The pitch is rock hard, which massively favors the batsmen.
Team Line-ups
India Team
RG Sharma, S Dhawan, V Kohli, AM Rahane, SK Raina, MS Dhoni*†, RA Jadeja, R Ashwin, UT Yadav, MM Sharma,Mohammed Shami
Pakistan Team
Ahmed Shehzad, Younis Khan, Haris Sohail, Misbah-ul-Haq*, Sohaib Maqsood, Umar Akmal†, Shahid Afridi,Wahab Riaz, Yasir Shah, Sohail Khan, Mohammad Irfan