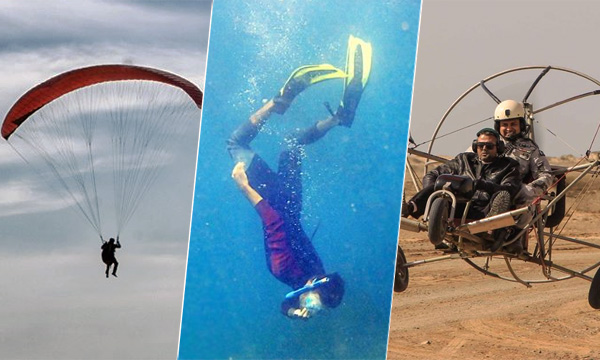 Life can get really boring if we stay in our comfort zone and don't challenge ourselves every day. Challenging yourself includes taking risks, going on adventures, traveling and making every moment count. It can be as simple as stargazing or planning a day trip with your friends and as complicated as doing things which you could never have imagined.
With sky being the limit, we have always tried to move the sky farther by continuously improving and working towards living life to the fullest! While one must think Karachi is a dead city for the adventurous souls amongst us, I take absolute pleasure in politely informing all those miserable souls that they are unquestionably wrong! Karachi offers a wide range of outdoor opportunities for those who dare.
Here are a number of pages and groups on Facebook that can make your living on the edge dream come true. Have a look:
Karachi Gliding Club:
Incepted in 2013, Karachi Gliding Club offers a range of air, land & sea sports including paragliding, paramotoring, powered parachuting, ultralight & sports flying, RC aircraft flying, Air Safari, hiking/trekking, camping, shooting, archery, off-roading, jet skiing, speed boating, snorkeling and a couple of other sports too on on-demand basis.
A discount of up to 25% is being offered to students based on the adventure that they choose. Check out their packages here.
Scuba Adventure Pakistan
Their motto is-Dive, Explore and Experience the endless undersea world. The club provides a Complete Range of PADI – SCUBA DIVING Courses and CPR and First Aid courses. Join them for Training, Exploration, Conservation and Excursion – SCUBA trips.
In order to learn more about them, visit their page.
Divers Reef Karachi
In order to have a once in a lifetime adventure under water, Divers Reef presents you with Snorkeling, Scuba diving, Water frenzy and Speed 360 along with amazing underwater pictures. Calling all the candid picture lovers, this is your chance to get a picture and an experience which you will cherish forever.
Visit their Facebook page for further details.
Karachi Water Sports Club
KWSC consists of a team of people who are fun-loving and welcoming. They provide excursion services like cliff-diving, snorkeling, scuba diving, beach parties and speed boats charter. They also book huts for special occasions.
For further details, visit their page.
Indus Scuba
The first PADI Dive and EFR center which is operating throughout the country, Indus Scuba provides a thrilling yet snug experience. They have the largest number of dive sites and offer all types of diving – from open water to night dives, wreck dives, and other thrilling experiences. They also arrange diving trip abroad.
Their promise is that the customers can be assured to get the best service from courses to equipment and dive trips regardless of whether they are taking the first plunge or are a seasoned pro.
I am sure after looking at all these amazing pictures, you all have started planning your day out with your friends.
Let us know how your experience was!
Stay tuned to Brandsynario for more!