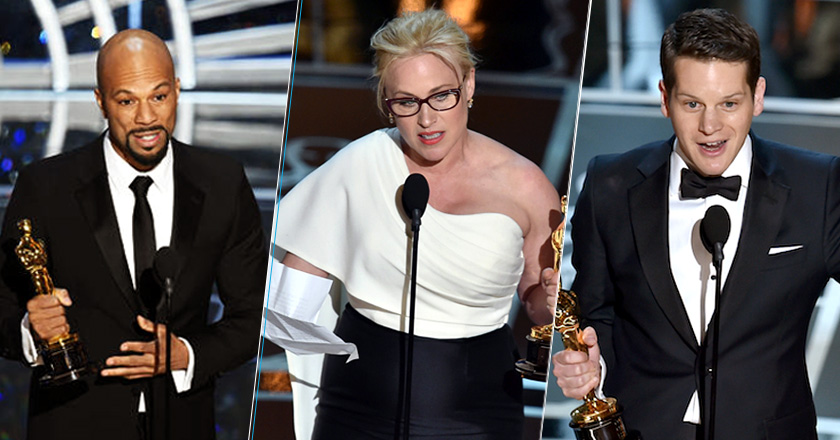 With the Oscars 2015 just barely over, we recount the most moving speeches of the night.
Graham Moore, who won Best Adapted Screenplay for "The Imitation Game", used the win to give a powerful speech about suicide awareness and depression.
"I tried to commit suicide at 16 and now I'm standing here," he said. "I would like for this moment to be for that kid out there who feels like she doesn't fit in anywhere. You do. Stay weird. Stay different, and then when it's your turn and you are standing on this stage please pass the same message along."
"The Imitation Game" is about the life and achievements of the late Alan Turing, the British mathematician and cryptanalyst who helped solve the Enigma code during World War II. After the war he was prosecuted for homosexuality in Britain and died by suicide in 1954 at 41 years old.
Watch the full speech below:
Patricia Arquette won Best Supporting Actress at the Oscars for representing badass single moms worldwide in Boyhood.
Her feminist Oscars speech, in which she shouted out for equal pay and rights for women. Meryl Streep and Jennifer Lopez were happily supporting and encouraging the winner.
Boyhood is the ground-breaking story of growing up, as seen through the eyes of a child named Mason, who literally grows up on screen, right before our eyes.
Watch the full speech below:
'Glory' ended up being Selma's only win at the Oscars — as many had predicted.
After an emotional performance of the song, Common and John Legend accepted their award for Best Original Song with an equally riveting speech, in which they spoke out against the mass incarceration of black men, voting rights, and the struggle for justice for all.
There wasn't a single dry eye in the audience.
Watch the full performance below:
Watch the full speech below: