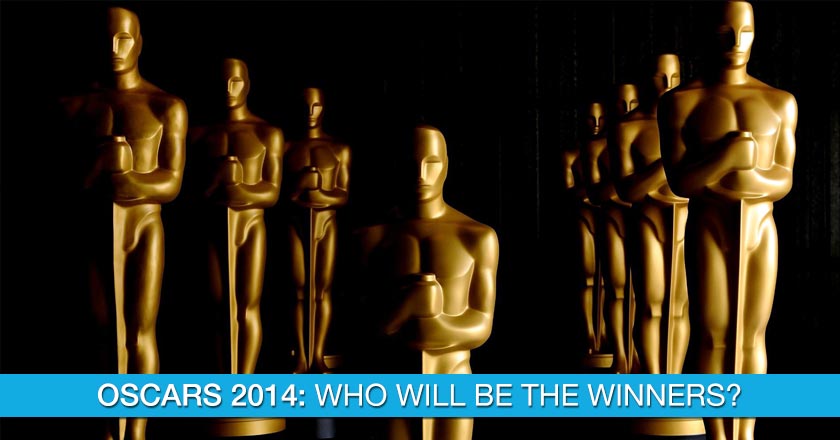 Amidst all the prophecies, surprises, disappointments and obvious choices, the nominations for the 86th Academy Awards 2014 were finally announced last Thursday.
Odds makers in Las Vegas are placing their bets on their favorite stars and movies that are bound to grab an Oscar this time.
Brandsynario, too, has predicted the names of the lucky ones that are most likely to bag the Golden Boy at the world's most prestigious award fiesta.
Best Supporting Actor Nominations
Barkhad Abdi (Captain Phillips)
Bradley Cooper (American Hustle)
Michael Fassbender (12 Years A Slave)
Jonah Hill (The Wolf Of Wall Street)
Jared Leto (Dallas Buyers Club)
Chances are that Jared Leto will walk off with the much deserving Academy Award for the Best Supporting Actor of the year for his astoundingly flawless acting of a transgender But Barkhad Abdi is a strong contender with his equally remarkable performance as a morally divided hijacker in Captain Philips. 
Nonetheless, our favorite for the Oscar will be the Leto, for his power packed dramatic and colorful portrayal of an Aids victim in the movie.
Best Supporting Actress Nominations
Sally Hawkins (Blue Jasmine)
Jennifer Lawrence (American Hustle)
Lupita Nyong'o (12 Years A Slave)
Julia Roberts (August: Osage County)
June Squibb (Nebraska)
Perhaps Jennifer Lawrence might beat her to it, but Lupita Nyong'o is the most laudable nominee in the list of five.
A newcomer in the industry, Lupita has conquered everyone's heart by giving a totally natural, awe-inspiring and tear-jerking performance of a slave girl Patsey in "12 Years a Slave" and thus is totally worth the award.
Best Director Nominations
David O Russell (American Hustle)
Alfonso Cuaron (Gravity)
Alexander Payne (Nebraska)
Steve McQueen (12 Years A Slave)
Martin Scorsese (The Wolf Of Wall Street)
Hands-down, we believe that it will be none other than Alfonso Cuaron to seize the award for the Best Director under everyone's nose. Beyond doubt, Gravity has surpassed limitations of 3 dimensional movies with its depth and sophistication in visual effects.
But not to forget, it took three years to create a major part of this sci-fi movie. Therefore, Cuaron's hard work deserves an Oscar-worthy praise.
Best Actress Nominations
Amy Adams (American Hustle)
Cate Blanchett (Blue Jasmine)
Sandra Bullock (Gravity)
Judi Dench (Philomena)
Meryl Streep (August: Osage County)
Blue Jasmine did not grab any nomination for best picture or director. Now all its prospects of achieving an Oscar lie with Cate Blanchett. Also, she has done complete justice with her charming acting in the movie and her performance has stood out from all her co-nominees. It will be a big shocker if she doesn't win.
Best Actor Nominations
Christian Bale (American Hustle)
Bruce Dern (Nebraska)
Leonardo DiCaprio (The Wolf Of Wall Street)
Chiwetel Ejiofor (12 Years A Slave)
Matthew McConaughey (Dallas Buyers Club)
When the entire internet population is literally praying for Leonardo Di Caprio to win his first Oscar, we guarantee that it will be Matthew McConaughey to capture the Best Actor Oscar. All the actors in "Dallas Buyers Club" gave impressive performances but it was Matthew's acting that outdid everyone else.
Best Picture Nominations
American Hustle
Captain Phillips
Dallas Buyers Club
Gravity
Her
Nebraska
Philomena
12 Years A Slave
The Wolf Of Wall Street
This category is definitely a tough one to predict. But really out of all nine nominations, the one and only true worthy enough masterpiece, is none other than "12 Years a Salve" and should be the one to take the Oscar home.
It's an honest heart breaking tale that revolves around human suffering, bearing so much of emotional power and searing intensity in its story line that no other movie can be the winner.
Let's see if we are right or wrong in our forecasts. Till then keep your fingers crossed and wait for March 2, 2014 for the ultimate winners.