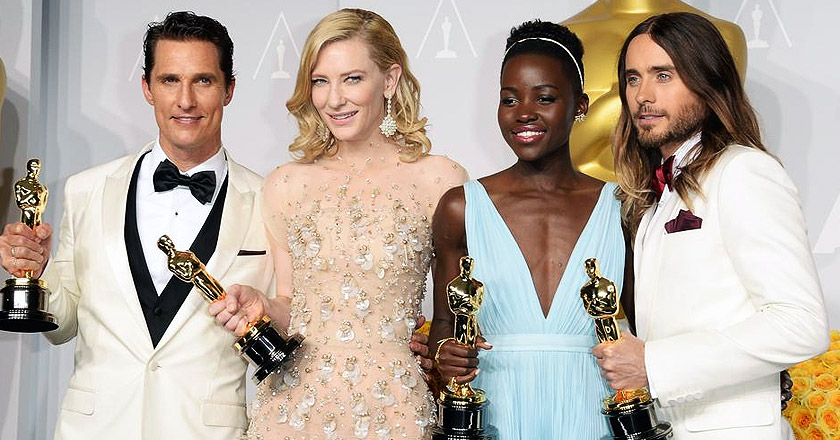 The most glamorous of all, the most awaited of all, the most memorable of all …. Yes it is the 86th Oscar Awards 2014. 
Oscars have always brought many memorable and delightful moments to cherish for both the Stars and for their fans as well. Without any further to do, let us share some of the most memorable Oscars with you
Oscar's
Winner
Best Picture

Best Actor in a Leading Role

12 Years a Slave

Matthew McConaughey (Dallas Buyers Club)

Best Actress in a Leading Role
Cate Blanchett (Blue Jasmine)
Best Actor in a Supporting Role
Jared Leto (Dallas Buyers Club)
Best Actress in a Supporting Role
Lupita Nyong'o (12 Years a Slave)
Best Animated Feature
Frozen (Chris Buck, Jennifer Lee, Peter Del Vecho)
Best Cinematography
Gravity (Emmanuel Lubezki)
Best Costume Design
The Great Gatsby (Catherine Martin)
Best Directing
Gravity (Alfonso Cuarón)
Best Documentary Feature
20 Feet from Stardom (Morgan Neville, Gil Friesen, Caitrin Rogers)
Best Documentary Short
The Lady in Number 6: Music Saved My Life (Malcolm Clarke, Nicholas Reed)
Best Film Editing
Gravity (Alfonso Cuarón, Mark Sanger)
Best Foreign Language Film
The Great Beauty (Italy)
Best Makeup and Hairstyling
Dallas Buyers Club (Adruitha Lee, Robin Mathews)
Best Original Score
Gravity (Steven Price)
Best Original Song
Let It Go – Frozen
Best Production Design
The Great Gatsby (Catherine Martin, Beverley Dunn)
Best Animated Short Film
Mr. Hublot (Laurent Witz, Alexandre Espigares)
Best Live Action Short Film
Helium (Anders Walter, Kim Magnusson)
Best Sound Editing
Gravity (Glenn Freemantle)
Best Sound Mixing
Gravity (Skip Lievsay, Niv Adiri, Christopher Benstead, Chris Munro)
Best Visual Effects
Gravity (Tim Webber, Chris Lawrence, Dave Shirk, Neil Corbould)
Best Adapted Screenplay
12 Years a Slave (John Ridley)
Best Original Screenplay
Her (Spike Jonze)
A peak at the above results and anyone could tell that Gravity ruled the Oscars, while 12 Years a Slave was chosen as the best picture. No doubt, it is one of the most memorable moments for Steve McQueen as his direction not only made it to the final nominees of Oscars but also brought home two great awards of Best Picture and Best Adapted Screenplay. 
Moreover, the film's actress Lupita Nyong'o won the best supporting actress Award which added another Oscar to "12 years a slave" winning streak. The actress delivered her compliments to the director by mentioning that,McQueen stimulated "everything with the breath of your own spirit."
Gravity was the next big winner at the 86th Oscar's 2014, bringing home 7 Oscars which also included the best direction award won by Alfonso Cuaron.
One of the most anticipated awards of the evening included the best actor award, which was won by Mathew McConaughey which left many shocked as Christian Bale, Bruce Dem, Chiwetel Ejiofor and as well as Leonardo de Caprio  who was one of the most expected of all, were left disheartened. McConaughey while getting too philosophical on his speech, commented,
"To any of us, whatever those things are, whatever we look up to, whatever it is we look forward to and whoever it is we're chasing — to that I say, alright, alright, alright. And then I say, just keep livin'."
On the other hand the best actress Oscar was won by none other than Cate Blanchett, for her role of frail socialite in a Woody Allen's direction, "Blue Jasmine".  The actresses role was howsoever very commendable and the award was somewhat expected. While receiving her Oscar, Cate said,
"As random and subjective as this award is, it means a great deal in a year of extraordinary performances by women."
The evening not only dawned with all the celebrations but also offered memorial to 47 deceased stars including some of the famous names, like Phillip Hoffman, Paul Walker, James Gandolfini and Shirley Temple.
With all the celebrations and hassle during the evening, Ellen DeGeneres noticed the growling tummy's of the Oscar stars and offered them free pizza, as a compensation to which she later asked for some donations from the crowd.