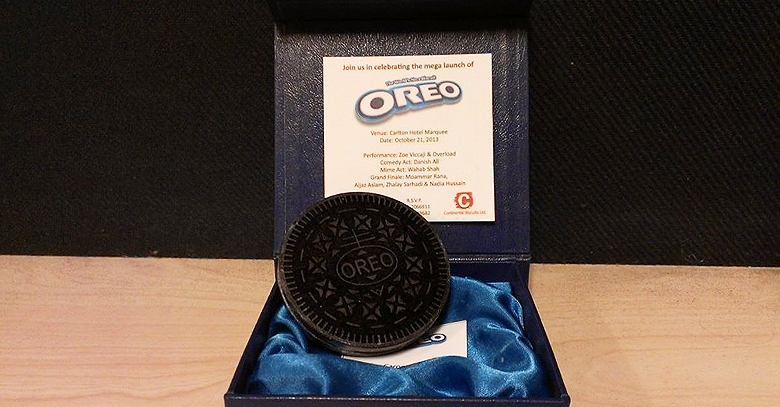 The world's most famous and certainly the most favorite chocolate sandwich biscuit Oreo is officially launching in Pakistan under the banner of Continental biscuits Limited. The American brand is set to make a debut via a media launch hosted by Syntax Communication which is scheduled for 2:30pm today, at Khorshed Mahal, Avari Towers Hotel.
The official mega launch will be hosted by Catalyst PR, at Carlton hotel at 7:00 m, where likes of Zoe Viccaji and Overload will perform along with a comedy act by Danish Ali.
As for Oreo itself, Pakistanis are not alien to the taste of the world's largest selling chocolate biscuit, as imported versions of Oreo have been an eminent constituent of every well-established convenience-stores, super marts and all major whole selling outlets.
Continental Biscuits Limited is a well-known brand in Pakistan and its product portfolio boasts of TUC, Candi, Bakeri Biscuits, Prince, Zeera Plus and Wheatable.
It is also an official affiliate company of Kraft Foods, the multibillion dollar American conglomerate, which also owns the franchise of Oreo in India, under the name of its child brand Cadbury.
Previously, Bisconni's "Rite" – an Oreo look-alike – was the country's substitute for Oreo but its decline might accelerate as the original cookie officially sets its feet in the Pakistani market.
Oreo is owned by Nabisco, a division of Mondelez International. Founded in 1912, the company is estimated to have sold more than 362 billion Oreo cookies ever since then. Franchised in more than 25 countries of the world, the biscuit is till date considered as one of the most addictive cookies on the planet. The biscuit is also one of the most widely used confectionary ornamentation in renowned deserts and ice creams.